Lenovo will release its Yoga tablet when Windows 8 is officially launched, ABC News reported this weekend. There will be two versions of the Yoga, this initial Windows 8 launch time Yoga will be the ARM powered Windows RT version of the machine followed by an Intel powered Windows 8 Pro version. Previously we only knew about the Intel powered Lenovo Yoga, which was shown off at the CES in January.
While the ARM powered Lenovo Yoga will have less CPU grunt than its Intel brother it is expected to boast double the battery life, according to ABC News. What version is better for you depends upon your mobile computing requirements. Also a buyer must consider the software side of things as the Windows RT OS will only support the Modern UI (Metro) apps from the Microsoft online store.
The hardware in the ARM based Lenovo Yoga is expected to utilise an NVIDIA Tegra 3 processor but we don't know anything else about the insides of the machine. The way the Yoga operated and its physical characteristics should be roughly similar to the Intel version shown at the CES.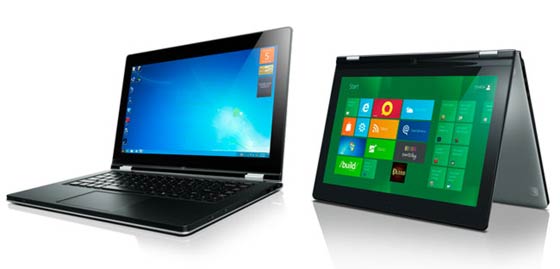 As a reminder here are the Intel Core powered Lenovo Yoga specs;
Screen: 13.1" HD+ (1600x900) pixel touch-panel display with 360 degree dual hinge flip design
CPU: Intel Core processor
Battery: 8 hours
RAM: up to 8GB
Fixed storage: up to 256GB SSD
Dimensions: 16.9mm thick
Weight: 1.47Kg
Construction: leather palm rest and side buttons for easy access in either tablet or laptop mode
Price estimate: £1,200
As these specs were touted in January there could be significant changes to them, half a year is a long time in IT. Also differences between the above Intel specs and the ARM powered Yoga are to be expected in battery life (a big difference, double battery life for the ARM version), weight and dimensions. Similarly there are quite big size/weight differences between the Microsoft Surface RT and Windows 8 Pro versions.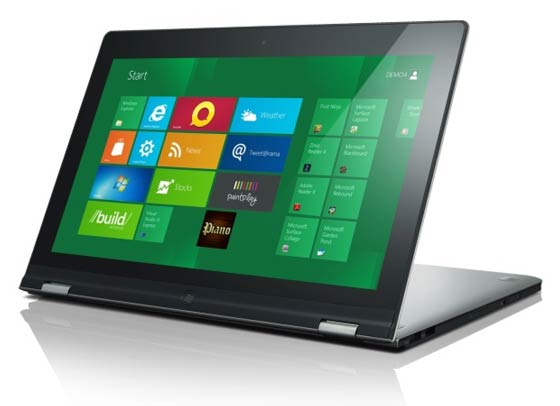 Overall the Lenovo Yoga is another great design for a tablet convertible; it's more conventionally practical as a laptop than the Microsoft Surface and Type Cover. The Lenovo screen is bigger but the Microsoft surface is quite a lot lighter (RT 676g, Win 8 Pro 903g) and thinner (RT 9.3mm, Win 8 Pro 13.5mm). The thinness and weight will make the Microsoft Surface a more comfortable tablet on your travels. But of course value is so important and we won't know about actual unit prices of any of these machines, it seems, until nearer the Windows 8 launch date.