Novogo is launching a new line-up of GPS navigators, the V series. What makes these GPS units nifty is their new voice-recognition software, allowing hands-free control.
They're powered by a 400MHz Intel processor, and each has 64MB RAM, a 3.5in touch screen LCD and support for SD/CF-II memory cards. The Novogo V series use the SiRF Star III GPS receiver and provide, according to Novogo, accurate mapping, free real-time traffic management information, but most excitingly, voice recognition. Does this mean your GPS will actually listen when you argue with it now?
In addition to these features, the Novogo V series offer a bit of style - they're available in a variety of colours including black, silver and purple. Pictured below is a model with a green fascia, attached to the provided suction mounting kit.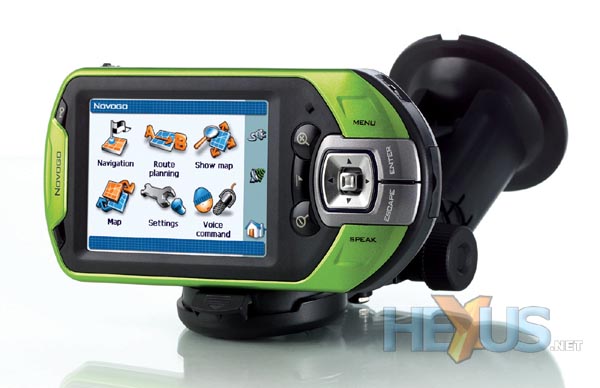 Three models will be gracing our shores shortly, the V30, V50, V70 and V90. We'll have to wait and see just how well the voice command system works but it sounds fun, if nothing else. Novogo say the GPS devices require "absolutely zero technical knowledge to use", and that they're easy to set up too, "Simply take it out of the box and you are ready to go." Open the box, pick it up, click it into place, then tell it where you want to go... then hope you get there.
Update - 3rd Jan 2006
Novogo has given us details on two further product line-ups they're hitting the market with this month. As a newcomer they're entering the market guns blazing, their three line-ups tackling different requirements that you'll find in the market, over a total of ten products.
We've already seen the voice controlled V series. In addittion to this we have the A series, which aims to provide the best performance and accuracy with its 20 channel GPS receiver. Lastly there's the T series, the most portable of the three, pocket sized for shifting it around easily.
Below we've added a picture of the compact T series and below that is the A series. You'll see they have similarities with the V series, and indeed many of the features are the same, including the display.