Microsoft is having difficulty trying to mass produce the new Surface tablet PCs according to rumours cited on Taiwan's DigiTimes IT news site. The quality of the VaporMg case was shown off proudly at the launch presentation and it is this essential part of the Surface construction which is proving to be the problem.
The Surface chassis was said to be originally intended to be a magnesium-aluminium unibody design but no manufacturers could be found with enough capacity to satisfy Microsoft's demands. The company then turned to the alternative VaporMg process. This process starts with an ingot of magnesium which is melted down then injection moulded to form the casing. Some parts of the Surface casing are only 0.65mm in thickness (thinner than a credit card). The VaporMg casing has a disadvantage over magnesium-aluminium in that it is slightly heavier but the finish is very similar, it is equally sturdy and there are more colour choices available.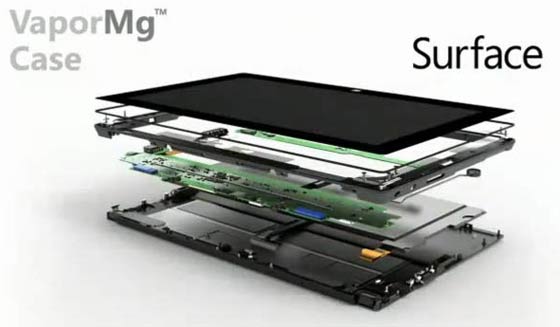 In his presentation of the VaporMg case, Microsoft's Panos Panay said "Every micron matters" and that the Surface is "designed from the inside out so tightly and so cleanly that even if you stuck a piece of tape in the middle of the device – it would bulge."Obviously there's not much room for manufacturing errors or deviations from spec. The injection moulding has to be done to exacting standards and Mr Panay said during the keynote presentation that "It takes approx 152 manufacturing steps to get the VaporMg case ready."
Panos Panay repeatedly emphasised the quality of the Surface finish in his keynote presentation and set a high target for buyer expectations.
"The best part is the smoothness of the finish"
"Pride in craftsmanship"
"Perfect finish, it's seamless"
"Every micron matters"
Microsoft had a difficult time in its search for a chassis maker, several companies reportedly baulked at having to meet projected demand; said to be as high as five million units before the end of 2012. Now the second-tier Chinese company that got the VaporMg case manufacturing contract looks like it has bitten off more than it can chew, according to the DigiTimes report. Low yield rates and Microsoft striving for perfection in the finishing of the VaporMg bodies will make the Surface tablet supplies less ample and possibly more expensive if things can't be ironed out.
As a reminder, please find below the very cool Microsoft Surface promotional video which shows off the seamless Surface finish to excellent effect. Unfortunately we still have no solid launch dates or prices for you. But the Windows RT Surface may be $599 and the Windows 8 Pro Surface $999 according to a leak last month.