Acer is about to release its Aspire S5 Ultrabook and it will be on sale in the UK within a month according to an company spokesman. The Acer Aspire S5 was first shown back in January at the CES 2012 in Las Vegas. You can read the press release here which accompanied the unveiling.
The Acer Aspire S5 "world's thinnest" Ultrabook measures just 15mm in depth at its thickest point. That's 0.59 inches in old money. In comparison the MacBook Air is 0.68 inches and the Samsung Series 9 2nd Generation Ultrabook is 0.58 inches thick. Well, it seems like there's more than one "world's thinnest" Ultrabook around…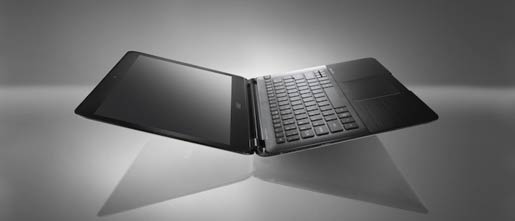 So thin and light it floats upon its own reflection
Acer Aspire S5 features;
Intel Core i7 Ivy Bridge CPU (upgraded spec since the CES show)
13.3-inch 1366x768 display
USB 3.0, HDMI & Thunderbolt ports
256GB SSD drive
1.3 Megapixel webcam
Magnesium alloy construction
Chiclet keyboard
15mm thick
1.35Kg weight
Battery life of up to 6.5 hours
Price $1400 (£900)
Acer managed to keep the thickness of the laptop down partly due to how the ports on the S5 are accessed. On the bottom of the laptop a panel hinges down to form a wedge(when a button is pressed), at the thickest point, towards the screen hinge, the ports are revealed and are accessible. Acer call this "MagicFlip I/O". The action of this hinge will also tilt the keyboard of the laptop on your desk for a better typing angle, so it has a secondary ergonomic function.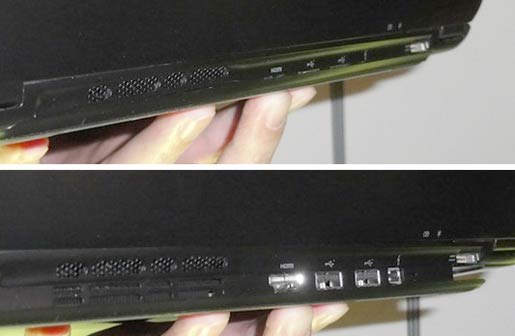 Wow, it's MagicFlip I/O
The release date is said to be before the end of June in the US and ZDNet UK have a similar estimate for the UK release as "at the end of June, or very beginning of July". Acer better hurry up before another bunch of world's thinnest Ultrabooks come out and steal its thunder.