Asus have launched some new gaming laptops powered by the latest and greatest components from Intel and nVidia. These 17" screen laptops will contain killer combinations of Ivy bridge i7 processors and nVidia GTX 660/670 discrete graphics, accompanied by lots of RAM, HD screens, fast hard disks and Blu-ray (except for the one smaller 15" model with DVD-RW drive; the Asus G55VW). Check the table below or on the Asus Republic of Gamers (ROG) 2012 G series website.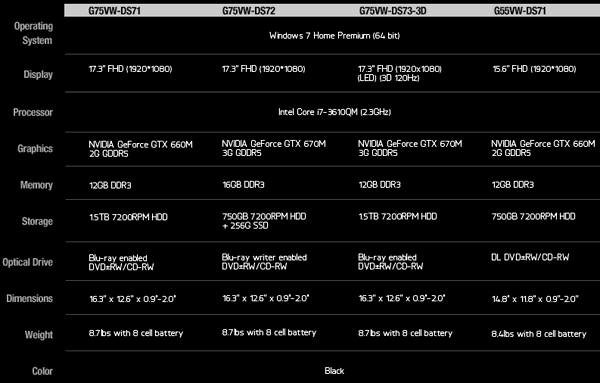 The spec is indeed impressive, utilising the Core i7-3610QM quad core processor in every one of the new ROG line. The lowest specified machine has 12Gb of RAM and a GeForce GTX 660M (Kepler 28nm) with a 2Gb GDDR5 frame buffer. The highest specified machine boasts 16Gb of RAM, Blu-Ray writer, 17" 3D screen, 750Gb HDD combined with 256Gb SSD with a GeForce GTX 670M (Fermi 40nm) graphics card combined with 3Gb of GDDR5.
As an added bonus, compared to last year's G74 models the G75s are about 15 per cent lighter. The two models equipped with the GTX 660M should benefit from running longer and cooler thanks to their Kepler graphics cores. Graphics performance is also lower for the GTX 660M over the GTX 670M of course.
A Notebook Review forum member in the USA has already got their hands on a retail Asus ROG G75VW equipped with the GeForce GTX 660M and has published lots of details and benchmarks for interested folks to peruse. Since he got the model without an SSD it seems like the limiting factor on this laptop's general performance is the HDD speed. His system scored a 3DMark Vantage result of 11627 3DMarks. Also he found the system consumed an average 36W but demanding apps, like 3D mark, pushed this up to 86W.
An earlier pre-launch review of a G75, but equipped with the Fermi core GeForce GTX 670 card, is here. In comparison to the benchmarks already mentioned, this G75 has a big boost in hard drive performance thanks to the 256Gb SSD installed alongside the conventional 750Gb hard disk. The graphics also show better performance with 12728 points scored in 3D Mark Vantage. (but the machine requiring 127W of power with 3DMark running). Don't expect much time away from a power outlet.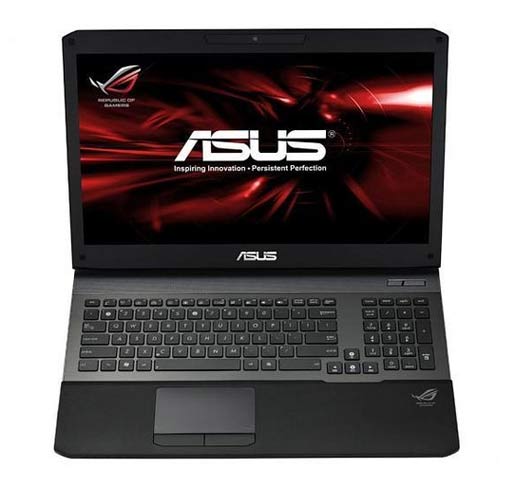 Prices in the US range from approx $1300 to $2000. In the UK a G75VW is listed at £1,727 inc VAT but is ordered upon request, quite expensive right now. I'm also not sure exactly which G75 is listed on the UK site because the spec doesn't match any on the Asus site precisely.
Finally here's something else to consider, to tempt you, from the Asus marketing department; "Like its predecessor, the new ROG G Series notebook design was inspired by sharp polygonal shapes, with inspiration from the US Navy's Sea Shadow stealth ship and modern day aircraft carriers."