If you want choice and value you are better off choosing an Ultrabook over a MacBook Air or iPad; that is the message coming for Intel in a recent interview with PCWorld. Perhaps the chip giant is worried about the "Post-PC" predictions put forward by IDC and Apple's Tim Cook recently, suggesting tablets, smartphones and Windows on ARM will be eating away at its traditional markets. Intel isn't going to lose sales without as fight, after so many years possessing such dominance. The company must be considered slightly impartial in the choice and value statement as it is the firm's chipsets that power the MacBook Air.

The thrust of Intel's argument is that the new ultra-thin, ultra-responsive notebooks offer users all the functions of the Apple devices, and more, at better price points. Also there are so many third-party manufacturers putting in a lot of effort to make better Ultrabooks, giving the consumer more variety and functionality at nicer prices.
Intel predicts that, given a modicum of success for the Ultrabook format, the prices should fall further and the sales figures for Ultrabooks could soar. Intel has significant investment in the project "We have the $300-million Intel Capital Fund to kick-start this innovation, and we're bringing everyone together and saying, hey, this is a great opportunity. We're definitely working with our partners to supply a lot more volume, which will bring Ultrabooks down to the mainstream price points."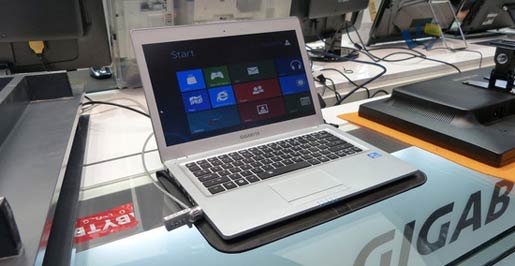 Not everything is about hardware so Intel refers to Windows, more than once, as

"the operating system users have come to love"

. I'm not sure about that precise description but I agree that users with significant investment in legacy applications will be more reluctant to leave the Wintel camp.

With Windows 8 on the horizon, which has a touch-optimised interface, some Ultrabook makers have already started to develop machines with touch screens and flip-over touch screens, ostensibly to function as tablet computers. Coming soon, the Lenovo Yoga offers this multimode functionality, but presumably with Windows 7, until October 2012, the expected Windows 8 release date. Apparently Apple isn't so keen to make such a multimode device that could detract from its own iPad USPs.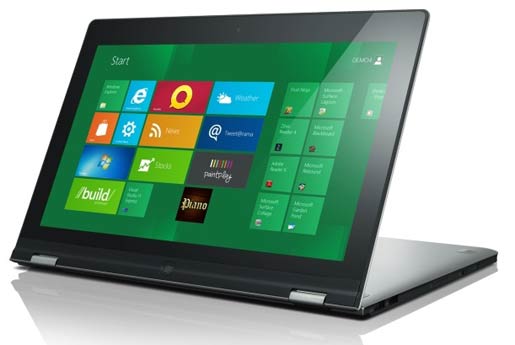 Intel has also asserted that consumers love real physical keyboards. "Every time we've done market research, consumers have told us, '

We love touch, but don't touch our keyboards.

' Even for email, people prefer keyboards. There's no tactile feedback on touchscreens. The fact that you have content creation on Ultrabooks is a huge differentiator. Plus, with all the unique form factors, as we said, to be able to use the Ultrabook as a tablet when you want to is an extremely unique value proposition. Consumers have told us that tablets are great for certain things like content consumption and casual gaming, but when there's real work to be done, they really like to do it on a laptop."

As we've just examined on HEXUS, keyboards might not be such a necessity for content creation as mice and pens are. With all the useable voice technology emerging an on-screen keyboard might be perfectly serviceable for corrections and quick edits. In fairness, Intel stresses the Ultrabooks will evolve and integrate new trends going forward through 2012 and 2013.