Ultrabooks are shaping up to be hot property this Christmas, and now that HP has decided to continue making PCs, the company is hoping to take its slice of the Ultrabook pie with the launch of the Folio 13.
Announced as the manufacturer's first crack at Intel's ultra-thin form factor, the Folio 13 is aimed at mobile professionals and is described as a "business Ultrabook" that features "a thin and light design, strong security options and a responsive solid state hard drive for the ultimate mobile experience."
Not a bad feature set to have, and one that's equally attractive to the everyday consumer.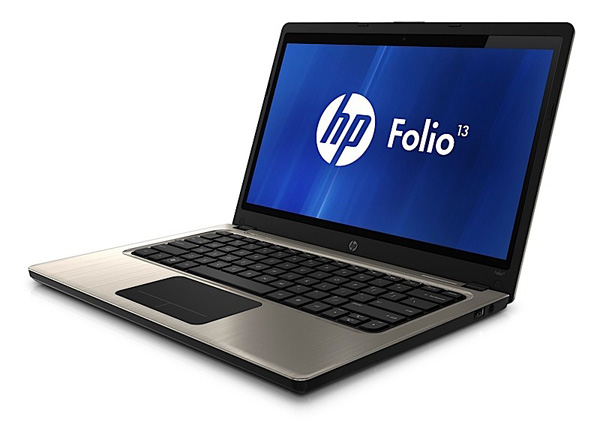 Speaking of attractive, we're liking the Folio 13's understated aesthetics, a lot. The sleek design is very easy on the eye, and at less than 18mm thick and just under 1.5kg in weight, it's very much an ultra-portable.
Inside, HP will equip the Folio 13 with a second-generation Intel Core processor (the dual-core Core i5-2467M looks set to be the default option), 4GB of memory, integrated Intel HD 3000 graphics, and a 128GB solid-state drive.
The strong selection of internal components is accompanied by a 13.3in BrightView display with 1,366x768 resolution, a backlit keyboard, multi-touch trackpad, HD webcam and Dolby Advanced Audio. Certain models will include a TPM Embedded Security Chip to give piece of mind to those with sensitive data, and there's no obvious shortage of connectivity options. By default, the Folio 13 provides HDMI output, Ethernet, both USB 2.0 and USB 3.0, and an integrated card reader.
A price tag of $899.99 US dollars puts it right up against Toshiba's Portege Z830 and Acer's Aspire S3, and HP has confirmed that the Folio 13 will be available to US consumers beginning December 7. There's no mention of a UK launch just yet, but a quick dollar-to-pound conversion suggests a price tag of just under £700 including VAT.