MSI's Atom-powered WindPad 100 has been lurking around the pages of HEXUS for almost a year now, but the little tablet has so far failed to make a public debut. The last we heard of it, the slate was supposed to be relaunched at CES - although it didn't seem to make an appearance - then the company announced a few weeks ago that it would be available in Germany before January was over.
However, now it looks like the slate has managed to hop the channel and make it to this side of the pond. Retailer Simply Electronics claims to have five 100s in stock right now and is ready to ship them out straight away for a hair below £650 - although it's currently 'discounted' to the expected price of £500.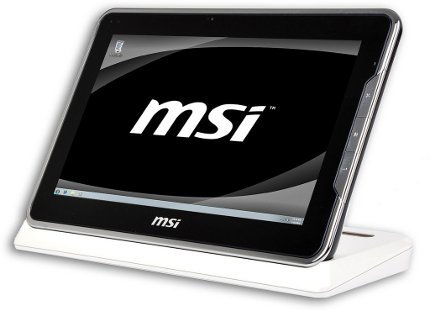 Although all of the specs seem to line up, we suspect this may not be the start of widespread availability for MSI's Wintel tablet. As far as we can tell, the company is based primarily in Hong Kong and deals mainly in imports to the UK. While the site doesn't seem to be a fake, a quick web-search suggests that Simply's customer service and delivery records seem spotty at best.
As far as we can tell, the WindPad will feature a 10in 1,024x600px display powered by a 1.6GHz Atom Z530 with 2GB DDR2 - although an upgrade to the newer Oak Trail platform was rumoured to be on the cards. Storage will be handled by a 32GB SSD with expansion courtesy of an SD card reader, and the tablet will come with front- and rear-facing webcams, WiFi, Bluetooth and a custom touch-based interface on top of Windows 7 Home Premium.
Reportedly the 800g device will measure in at a relatively chunky 18.5mm thick and manage a battery life of at least six hours.
Any brave souls willing to take the plunge are welcome to, but we'll be waiting for a listing on a more familiar retailer to signal the official arrival of the long awaited WindPad 100.