One of the highlights of IDF in September wasn't a new processor technology, but Dell's transforming netbook/tablet/netvertible, the Inspiron Duo. We still don't have much info on the device, but the company has let it out of the labs to star in a short promo released to YouTube.
The 10in PC - which you'd be forgiven for thinking was a concept - is due to arrive later this year, though the video simply teases us with 'coming soon'. Powered by an Intel Atom CPU, we're expecting fairly generic netbook specs, though we don't have any official indication on the internals beyond the processor.
What will separate it from the pack is the ability to twist into a tablet in just a couple of seconds, providing a seamless switch between modes.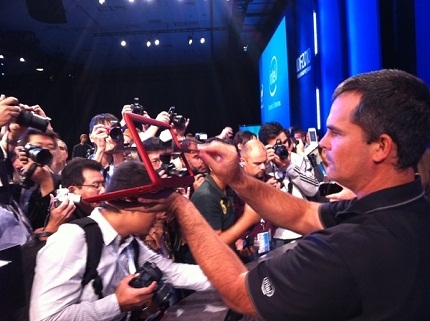 Based on what we saw at IDF, the tablet will be running Windows 7 Home Premium - a sensible choice, given the extra touch features that are included with that version. While having Windows will be great for netbook mode, prior experience has shown that the stock-OS leaves a lot to be desired when it comes to tablets.
Thankfully, the video demonstrates a custom skin that Dell has developed to improve the tablet experience. With any luck, the combination will strike the perfect balance between Windows and a finger-friendly interface.
Again, the video doesn't reveal a lot about the Inspiron Duo, but it does tell us one thing - we're still very excited to get our hands on the company's latest creation.