We've seen a couple of "real" netbooks today from the likes of ASUS and Samsung, but here's a potentially-imaginary offering that has fruit lovers the world over rubbing their iPods in anticipation.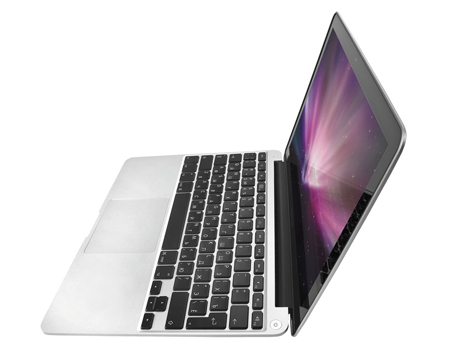 The super-thin portable system, said to be pictured in a Russian magazine, is being dubbed the MacBook Mini and those who don't believe it to be the work of Adobe PhotoShop claim it to be Apple's take on the netbook form factor.
Despite appearing anorexic when viewed at an angle, the system's believed to measure about as high as a MacBook Air at its thickest point and offers a smaller 10.4in screen - effectively making it a downsized MacBook Air with a few changes on the inside.
According to the Russian mag, the so-called MacBook Mini will sport an NVIDIA chipset - ION perhaps? - providing a GeForce 9400M IGP. That'll be equipped with a 1.83GHz Intel Atom Z740 processor - a part which to our knowledge doesn't exist in Intel's range - and 2GB of DDR3 memory.
Sounds like an elaborate prank to us, but with so many PC manufacturers rolling out netbooks that are almost-but-not-quite perfect, we've often wondered if Apple would step in and show them how it's done. Given Apple's recent association with NVIDIA, we wouldn't be at all surprised to see ION debut in some form of Mac.