Wireless Mobility

Wireless Mobility


Sean Maloney – Executive Vice President and General Manager Intel Mobility Group

Only 5% of the world has broadband – The growth of the industry and ease of use of access to the internet is one of the driving factors to the adoption of new technology. Meanwhile, computing is going mobile – in the form of the power which we are carrying with us – a growth spurt at the beginning of 2002 which is still shooting up now.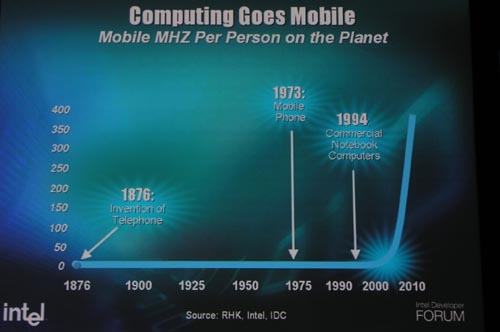 The industry needs to provide performance to satisfy the power fanatics – as well as adopting open standards.

Napa is the 1st mobile dual core CPU, it runs on the 945 express chipset, with 3D capability, it comes with Intel Pro 3945 ABG Wireless networking. It has enhanced power management – Intel Dynamic Power coordination as well as an Intel advanced thermal manager. Napa runs within a 35W thermal envelope, and is 20% smaller than current mobile chips.

Intel have also been working with partners in the industry. Intel and Panasonic are working together on pushing battery technology. The first advance is technology coming out in 2006 using nickel in the positive element within the battery. This increases the battery life by 30%. The long term aim is to have batteries with an 8 hour life by 2008.

Japan leads the way with business clients on notebooks, the US and Europe is also showing increasing shift to the notebooks. With mobile computing comes mobile communications and Intel are looking to get the quality of bandwidth and service increased for VoIP over wireless. This will work with the Cisco Gateway and the client.

Intel are working with Cisco in order to develop a better way of Wireless networking. This will basically work like this: Rather than connecting to the AP with the strongest signal, the aim is to have it on the AP with the most available bandwidth, thus giving you a higher performing connection speed.

Mobile devices do not have the same storage capacity as a normal desktop, instead of making the devices bigger it is better to have a way of broadcasting your own content within your home or office enviroemnt. They showed us a DVBT-H solution which broadcasts up to 16 channels at 25fps. This ran over the L-Band frequency.

Intel have also got the clock for the XSCALE processor to 1.24Ghz (new code name - Monahans), whilst they do not know what speeds this will be shipping at it finally shows the performance of your mobile device will be improved. They have done this by doing a manufacturing process shrink to 90nm. Intel did a live demonstration of this showing H.264 decoding on the fly. This product typically will find its way in to a mobile phones.