A new material developed by Swiss scientists could speed the progression of stretchy and wearable electronic devices. Electronic circuits and wiring can exist happily on rigid surfaces but may break easily upon stretchy and bendy surfaces. The new material is made from polyurethane with rigid islands which are impregnated with aluminium oxide and laponite. While the material is stretchy and deformable the islands protect the delicate circuitry by their minimal deformation properties.
Talking about the new material, Andre Studart, a researcher at the Swiss Federal Institute of Technology in Zurich, told Reuters "You have two materials with very different mechanical properties. The challenge is to bridge these different properties." Studart found the parallel structure in nature of bones, tendons and muscles to be particularly inspiring. "There are many biological materials that have these properties as well, like the way tendons link muscle to bone. But there are not so many examples in synthetic materials," he said.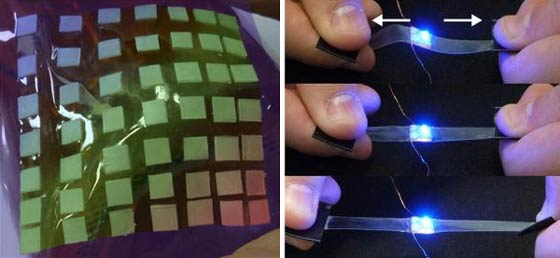 350 per cent stretch
The soft part of the new material can stretch by up to 350 per cent without failure, the scientists claim. Even when stretched so far the stiff oxide treated regions remain intact. The border region between the stretchy and stiff regions is graduated in stiffness and forms a gradually stiffer and less stretchy section as you get nearer the electronic islands.
Applications
The Swiss researchers say that possible uses for the new materials vary from smartphones and wearable electronics to solar cells to medical implants. As well as electronic use the material may be useful in medical implants where materials of variable stiffness could be better replacements than ones that are uniform in their stiffness. An example given by Reuters is that of vertebrae, where stiff polymer used to fix a problematic joint may later damage the surrounding healthy bones. In this and similar cases "The vision is that you will be able to make materials that are as heterogeneous as the biological ones" said Studart.