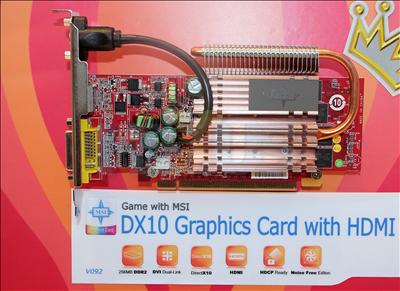 MSI's showcase of NVIDIA's unannounced DX10 parts continued unabated today.

Here's the G84 (or is it AMD's RV610, huh?) in all its glory, replete with an HDMI output and passive cooling.

GeForce 8500, if that's what this really is, will be officially released next month and, we reckon, will become the low-to-midrange SKU to own. This half-height model, perfect for HTPCs, was outfitted with 256MiB of DDR2 memory, S-Video, dual-link DVI, and carries HDCP support as standard. Expect it to weigh in at around £70. Also expect a review soon, too.

MSI, it seems, is batting on both sides. Word on the floor is that it's AMD's unreleased RV610 and not NVIDIA's GeForce 8500. It's all too complicated.