A user at Chinese computer technology forums ChipHell has posted a GPU-Z screenshot displaying the configuration of his Nvidia GeForce GTX 760 graphics card. If the details displayed are legitimate then Nvidia has done more than expected and simply rebadged a GTX 670, this new card is a lot more like a higher clocked GTX 660 Ti.
The Nvidia GeForce GTX 760 is a highly anticipated graphics card as it should update the mid-range performance area in Nvidia's portfolio. The 'X60' series are positioned in the sweet spot for many buyers giving very respectable performance without eating too much of the budget.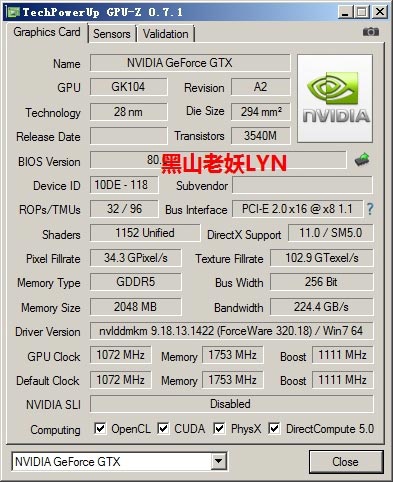 As you can see from a glance at the GPU-Z screenshot, the GTX 760 features a 28nm GK104 GPU. This GPU features a core clock speed of 1072MHz with a boost speed of 1111MHz. The 2GB of memory on this example runs at an effective 7GHz on a 256-bit wide GDDR5 memory interface.
Looking at the GPU config we can see it provides 1152 CUDA cores, 32 ROPs and 96 TMUs. This suggests that the GK104 GPU in the upcoming GTX 760 has three of its four graphics processing clusters enabled.
Please regard this leak as just an interesting diversion as it's not from the horse's mouth, also nothing on the screengrab specifically says this is a GTX 760, it is just from the ChipHell forum post.
This latest and most budget friendly member of the GeForce GTX 700 series so far is expected to launch this month with prices ranged around the $299 mark. Rest assured, when the new Nvidia GTX 760s do officially arrive you can expect the usual timely splash of reviews here on HEXUS.