Today NVIDIA have released a new WHQL-certified driver for Windows 8, Windows 7 and Windows Vista systems. This is the first WHQL-certified driver for Windows 8 proper from the graphic card company. The driver executable weighs in at 128MB and 175MB depending upon if you download the 32 or 64-bit version respectively. As well as passing the Windows Hardware Quality Lab tests the new driver has support for new GPUs, driver performance upgrades in various games and a couple of bug fixes. Here are the v306.23 release notes (PDF).
AMD released a WHQL driver for Windows 8 literally hours after the Windows 8 RTM on 15th August. Up until now the NVIDIA faithful using Windows 8 RTM had to make do with a beta driver upon their systems. In fact that 306.02 beta driver was used for the HEXUS tests of the new KFA² NVIDIA GeForce GTX 660 EX OC, a review of which was published a few hours ago.
GeForce 306.23 driver highlights
The new driver is WHQL certified (you might have missed that fact) and supports the 32/64-bit Windows Vista, Windows 7 & Windows 8 operating systems. GeForce 306.23 drivers support the new GeForce GTX 660 Ti, GeForce GTX 660, and GeForce GTX 650 cards. The drivers add support for NVIDIA TXAA, a new "film-style anti-aliasing technique" introduced alongside the latest Kepler GPUs.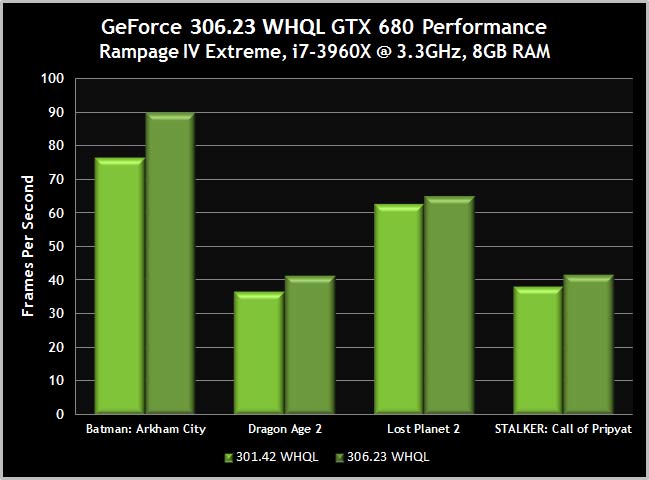 Example performance boost using the new drivers with a GeForce GTX 680
You get a gaming performance boost compared to the GeForce 301.42 WHQL-certified drivers, dependent upon your system config. You can find out about particular games and performance increases on the driver download pages, below. The NVIDIA blog says that the new drivers "improve game performance by up to 17% on all GeForce 400, 500, and 600 Series GPUs". If you play Batman: Arhham City, Dragon Age II or Total War: Shogun II these drivers will be a welcome upgrade for you.
There are a ton of NVIDIA SLI and 3D Vision profiles added and updated including lots of very popular titles like Mass Effect 3 and the highly-anticipated Borderlands 2. Bug fixes include eradicating a stuttering issue on some GeForce GTX 600 series GPUs. NVIDIA call the new 306.26 WHQL drivers "An essential upgrade for every GeForce GTX user". If I had an NVIDIA GeForce GTX card I could be clicking those download links above right now...