Responding to the threat of NVIDIA's Kepler line-up, AMD launched a GHz edition of the Radeon HD 7970, back in June, which introduced a higher clock and a boost frequency, enabled through adjustments to both the bios and Catalyst drivers, allowing cards to overvolt and overclock should power and thermal conditions permit it.
Unlike the HD 7970, this update to the HD 7950 will not have a special name and will, it seems, slowly replace existing offerings under the same title. Here's a quick comparison of the changes the new variant will bring:
AMD Radeon

HD 7970

GHz Edition

AMD Radeon

HD 7970

AMD Radeon

HD 7950

(w/Boost)

AMD Radeon

HD 7950

Stream Processors
2048
2048
1792
1792

Texture Units

128
128
112
112
ROPs
32
32
32
32
Core Clock
1000MHz
925MHz
850MHz
800MHz
Boost Clock
1050MHz
N/A
925MHz
N/A
Memory Clock
6GHz GDDR5
5.5GHz GDDR5
5GHz GDDR5
5GHz GDDR5
Memory Bus Width
384-bit
384-bit
384-bit
384-bit
VRAM
3GB
3GB
3GB
3GB
FP64
1/4
1/4
1/4
1/4
Transistor Count
4.31B
4.31B
4.31B
4.31B
PowerTune Limit
250W+
250W
225W
200W
Manufacturing Process
TSMC 28nm
TSMC 28nm
TSMC 28nm
TSMC 28nm
Architecture
GCN
GCN
GCN
GCN
Launch Date
22/06/2012
09/01/2012
17/08/2012
31/01/2012
Unlike the HD 7970 GHz Edition, the new boosted Radeon HD 7950 features an increase in core clock only, with memory staying put at 5GHz. A Boost clock has now been introduced and the effective power consumption limit has been raised to allow the PowerTune Boost system to work its magic. With these improvements, the AMD Radeon HD 7950 with Boost will clock in anywhere between 6 and 16 percent greater that its Boost-free predecessor.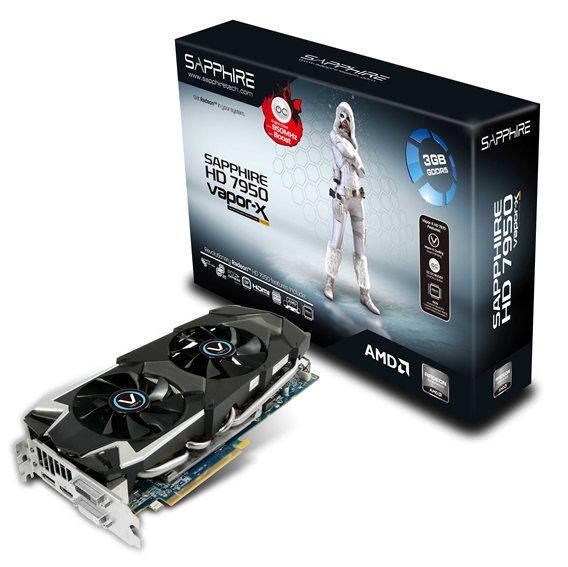 SAPPHIRE has been quick to the mark with this product refresh and has already announced the SAPPHIRE HD 7950 3GB OC with Boost Vapor-X Edition, offering all of the above, however with a Boost frequency of 950MHz as opposed to the standard 925MHz, activated through a toggle-able dual-bios. No doubt the increase in speed is made possible with the firm's unique Vapour-X cooling system, which claims to offer increased cooling performance at lower noise levels.
Expect other OEMs to catch on fast and follow-up with their own boards shortly.