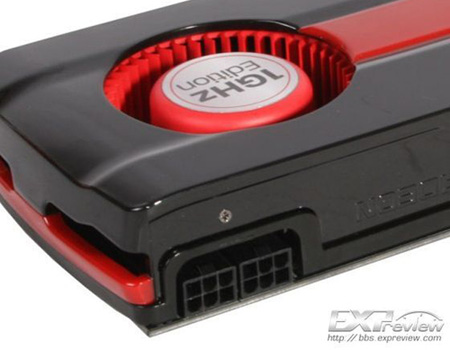 Isn't it incredible how a single picture can turn the rumour mill into overdrive? The above image, reportedly of a Radeon HD 7950 GHz Edition, has been doing the rounds over the past couple of days with various sites suggesting that AMD's on the verge of unleashing a new-and-improved HD 7950 card.
We'd suggest taking the rumours with a pinch of salt - the card in the image looks a lot like a Radeon HD 7870 GHz Edition to us - but a Radeon HD 7950 GHz Edition would certainly have some promise. In an effort to beat away the GeForce onslaught with more megahertz and PowerTune Technology with Boost, AMD successfully heightened the appeal of the Radeon HD 7970 late last month with the launch of a top-of-the-range GHz Edition.
Said card didn't do anything radical, but with a basic overclock and NVIDIA-like Boost technology thrown into the mix, the 7970 GHz Edition proved to be a real threat to the GeForce GTX 680. Makes sense, then, for AMD to take similar action with the Radeon HD 7950 in an effort to elevate its second-rung card into GeForce GTX 670 territory.
GPU
Radeon HD 7970 GHz Edition
Radeon HD 7970
Radeon HD 7950 GHz Edition*
Radeon HD 7950
DX API
11.1
11.1
11.1
11.1
Process
28nm
28nm
28nm
28nm
Transistors
4.3bn
4.3bn
4.3bn
4.3bn
Die Size
352mm²
352mm²
352mm²
352mm²
Processors
2,048
2,048
1,792
1,792
Texture Units
128
128
112
112
ROP Units
32
32
32
32
GDDR5 Memory (MB)
3,072
3,072
3,072
3,072
GPU Base Clock (MHz)
1,000
925
1,000
800
GPU Boost Clock (MHz)
1,050
N/A
1,050
N/A
Shader Base Clock (MHz)
1,000
925
1,000
800
GFLOPS
4,096
3,789
3,584
2,867
Memory Clock (MHz)
6,000
5,500
5,500
5,000
Memory Bus (bits)
384
384
384
384
Max bandwidth (GB/s)
288
264
264
240
Power Connectors
8+6
8+6
6+6
6+6
TDP (watts)
250
250
200
200
GFLOPS per watt
16.38
15.15
17.92
14.34
Release MSRP
$499
$549
$399
$449
*Unconfirmed, but made up to the best of our ability
Extending PowerTune Technology with Boost to other cards would be a logical move, and going by past overclocking results, AMD should have no trouble in hitting the above-guesstimated speeds of 1,000MHz on the core (1,050MHz in a PTWB state) and an effective 5,500MHz on memory.
Such a card would most probably offer Radeon HD 7970-like performance, and that raises an interesting question; if AMD does expand the GHz Edition range, will regular cards be discontinued? Only time will well, but it doesn't seem outside the realm of possibility.