There have been a lot of impressive driver releases from NVIDIA lately, each one adding significant performance boosts, especially to the firm's already impressive 6xx-series of GeForce graphics cards. Yesterday was no exception, as the firm announced the beta availability of its 304.48 drivers.
The latest software offers up to an 18 per cent performance boost, with 'Batman: Arkham City' as the prime target. Most importantly, it's not just the 6xx-series to benefit with NVIDIA demonstrating gains across its older Fermi cards as well. This goes equally for SLI, which sees a performance boost across the range.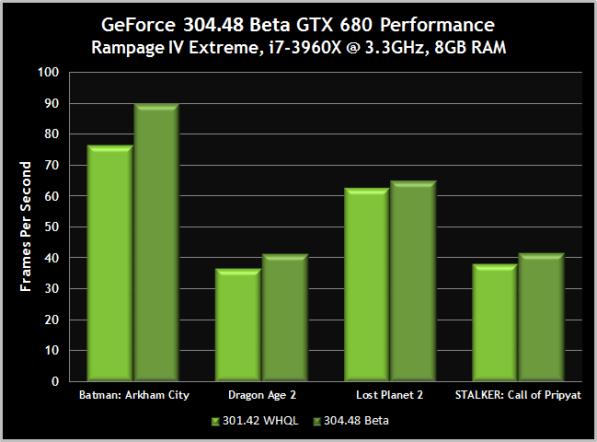 Following complaints (this writer included) that globally-enabled FXAA blurred programs such as Microsoft's Live Messenger, NVIDIA has disabled FXAA in all programs known to have difficulties and will continue to expand this list as required. NVIDIA also claims to have tackled VSync micro-stutter issues on 6xx cards, which should allow for smoother gameplay.
For Diablo III gamers, NVIDIA has made it possible to enable MSAA, improving jaggies and removing the game's default post-process blur, better representing original textures.
Last but not least, expect the usual array of SLI and 3D profile additions and improvements, along with minor bug fixes. For full details, head on over to NVIDIA's blog.