Details of what will probably be the shipping specification of the GeForce GTX 670 have emerged over at VideoCardz.com. The site captured screenshots of a well-known hardware reseller's web site that accidentally jumped the gun in listing the yet-to-be-announced card.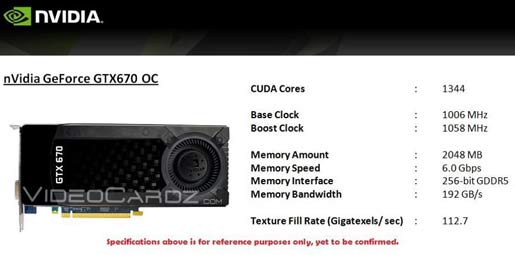 Depicting a factory-overclocked GeForce GTX 670 made by Leadtek, the early listing came attached to a brief specification that tells us where the card fits in. We think it will be between the GTX 680 and GTX 660! No, seriously, more important stats came to light and they are in the table below.
As expected, we can see that a lot of what makes up the GTX 680 remains in the GTX 670. The headline change is that the GTX 670 has seven Streaming Multiprocessors enabled instead of the eight in the GTX 680. That gives the card 1,344 CUDA cores at its disposal rather than the 1,536 CUDA cores in the top-of-the-line GTX 680.
Comparison Table
| | | |
| --- | --- | --- |
| | GTX 670 | GTX 680 |
| GPU | 28nm Kepler GK104 | 28nm Kepler GK104 |
| CUDA Cores | 1,344 | 1,536 |
| Base Clock | < 1,006 MHz | 1,006 MHz |
| Memory | 2GB GDDR5 | 2GB GDDR5 |
| Memory Interface | 256 bit | 256 bit |
| Estimated Price | £300 - £350 | £420 |
Tough to say what impact on performance the reduction in CUDA cores will have, particularly without knowing the exact core clock speed for reference cards. Leadtek's OC model is said to operate at GTX 680-matching speeds of 1,006MHz, but we suspect the stock clock will be nudged down a notch to maintain a clear divide between the two single-GPU GTX 600-series offerings.
In terms of price, the GeForce GTX 680 is available right now at around £420 and we expect the GTX 670 to slot in somewhere between £300 and £350. No surprise, then, that this second-rung Kepler card will be doing battle against AMD's popular Radeon HD 7970 and 7950 offerings on price/performance whilst making good use of chips that didn't make it out of the performance bins to the GTX 680 standard.
If you want to read more about the Kepler GPU, HEXUS reviewed the GeForce GTX 680 just over a month ago and we also did a comparison of the GTX 680 and Radeon 7970 at the same clocks to see how the rival architectures measure up. Real performance figures, price points and a thorough comparison of the GTX 670 will be here as soon as the card is officially launched. Stay tuned.