When we first introduced our readers to the NVIDIA GeForce GTX 680, we also introduced some impressive new driver features from the firm, namely, the new, high-speed FXAA algorithm, Adaptive VSync and Frame Rate Target.
Just yesterday, NVIDIA announced that all of these new features, plus the usual round of performance enhancements, were now available in its first general beta release of the R300 driver series, with v301.24 now up for grabs on the firm's website. This new release is compatible back to 8xxx series graphics cards and supports Windows Vista and 7.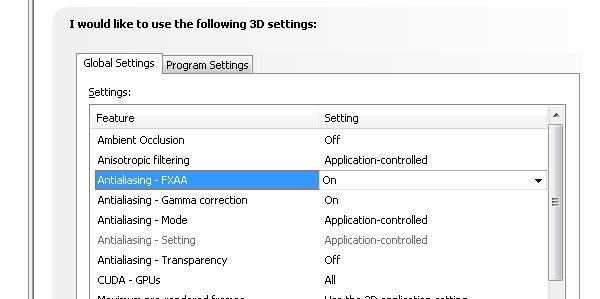 For those who require their memory jogging, FXAA is a new shader-based anti-aliasing algorithm that typically offers 60 per cent greater performance than MSAA whilst achieving equivalent or superior quality.
Adaptive VSync allows cards to turn off VSynch when the frame-rate is likely to drop below 60/30fps; VSync exists to ensure that an entire frame reaches the screen in a single refresh, preventing 'tearing' artefacts, however if the GPU is pressed, the frame rate will take a sudden drop to half of the target frame-rate i.e. 60fps down to 30fps. Adaptive VSync prevents this issue by turning Vsynch off during these times, favouring tearing artefacts over a sudden loss of frames.
Frame Rate Target can be useful in three ways; the first, setting a frame cap of 30fps, enabling support for some older games that do not function correctly at higher frame-rates. Secondly, setting a target around the average expected frame-rate can result in reduced judder caused by a large fluctuation in the frame-rate of a game. Finally, setting a target can help to reduce GPU power consumption, though how effective this will be varies on specific GPU architectures.
For NVIDIA Surround cards, support for a fourth 'Accessory' display has been added, along with single-screen maximisation, central Windows Taskbar alignment, bezel peeking and full single-screen acceleration whilst running multiple monitors.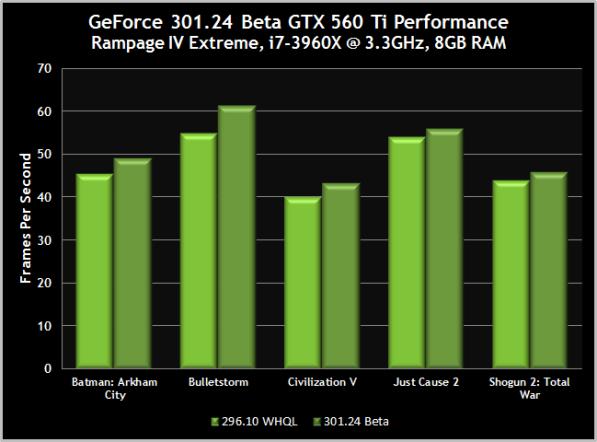 The new release adds more SLI and 3D Vision profiles and sees performance boosts across the line, with Elder Scrolls V: Skyrim showing gains of up to 23 per cent, with specific note to improvements in SLI performance in this release. A sample of popular games running on the mainstream 560Ti saw performance boosts ranging from 3.52 per cent up to 11.87 per cent.
Head of over to the GeForce website for a full list of changes and detailed introductions to the new features.