Only a single day after EVGA's first entry into the pre-overclocked market with Kepler, Palit makes its entrance with the 'GeForce GTX 680 Jetstream' and, unlike EVGA's offering, the Jetstream features a custom, three-fan cooling solution, with the overall design looking pretty hardcore, if we do say so ourselves.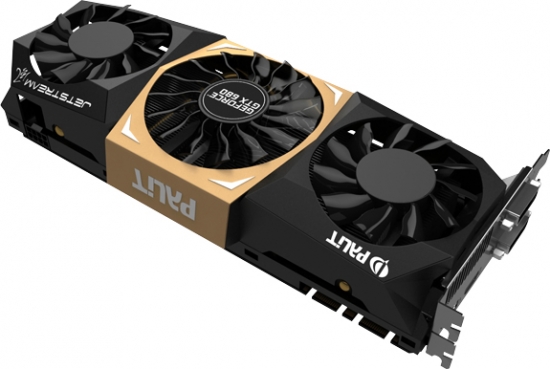 Taking matters a step further than EVGA, the GPU core clock has been bolstered from 1,006MHz to 1,084MHz, with a boost speed of 1,150MHz, whilst the memory has received a good kick from 6,008MHZ to 6,300MHz. That's a 26MHz greater GPU clock and a 92MHz greater memory clock in comparison EVGA's SuperClocked offering. What's more is that even with this greater boost, the card runs up to eight degrees cooler and nine decibels quieter than a stock 680, according to Palit.
Just to wow us a little further, the card features blue LED lighting; the name 'Jetstream' is based around the configuration of the three fans, which pull air through focused, high-speed streams, made possible through alternating fan rotations, reducing back-flow.
For its power supply, Palit has deployed a high-end DrMOS and a custom six-phase PWM supply, which, when combined with the cooler temperatures of the overall unit, should allow for some pretty extreme overclocking.
Palit was pulling our chain a little when it claimed to support three-way DVI output; it does, though simply through a standard HDMI to DVI converter.
No word yet on UK release schedule and pricing, however, this looks like a 680 worth keeping an eye on.