NVIDIA has been pretty busy lately. Having regained GPU supremacy at the end of last year, the company knocked one out of the proverbial park at CES by announcing partnerships that will see its Tegra chips in a number of must-have devices - and cars.
Now, less than a week after the trade show closed, the company has another win to shout about. In a joint press-release with manufacturing partner TSMC, NVIDIA announced that it had shipped its billionth GeForce graphics processor.
The milestone comes after less than twelve years of working together, meaning that the two companies have pumped out - on average - more than 150 GPUs every minute of every day since the partnership began. The first GeForce GPU - and the first graphics accelerator coin the phrase GPU - was the GeForce 256, launched in mid-1999.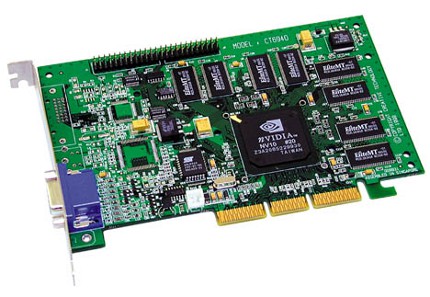 The NV10-powered GeForce 256 - the card that started it all
Dr Morris Chang, CEO of TSMC commented that "NVIDIA's achievement is a prime example of how close collaboration between foundry and fabless companies can benefit the consumer electronics market, the semiconductor market segment, and both companies' shareholders. NVIDIA has been a model of vision and innovation, and we highly value the long-term relationship between NVIDIA and TSMC".
NVIDIA's Jen-Hsun Huang added that "since inventing the GPU more than a decade ago, NVIDIA has driven innovation in these processors at a rate virtually unmatched in the technology industry. With our close partnership with TSMC, the complexity of these devices has increased more than 1000 times, enabling enormous progress in computers ranging from handhelds and PCs to workstations and data centres".
With the company's chips now popping up in more places than ever, we don't expect that it'll take another twelve years for the companies to build the next billion graphics processors.