Apple may have chosen AMD to provide the graphics-chips in its desktops, but it's still possible to buy professional NVIDIA graphics-cards as after-market upgrades. Now there's slightly more choice for your Mac Pro, as the GeForce-maker has just announced a new Fermi-based Quadro GPU.
The new card is the Quadro 4000 and comes with 256 Cuda cores and a core clock of 475MHz. This is the first time that the Fermi architecture has been available for Apple systems, and should provide a bit more power than the GTX 260-derived FX 4800 currently available.
Interestingly, the new Quadro card isn't based on a consumer graphics card, even though it uses the full-size GF100 GPU. Disabling half of this large and expensive to produce chip would be uneconomical on a consumer product, but the higher price of professional models clearly make this a viable option.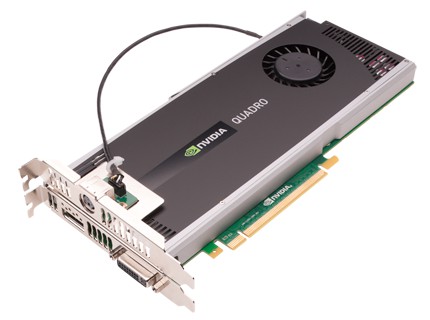 The card will ship with 2GB GDDR5 clocked at 700MHz and connected over a 256-bit interface for a total bandwidth of 89.6 GB/s and a TDP of 142W.
When it arrives later this month, the Quadro 4000 will retail for $1,199 (£935 inc VAT) and should be available through all of the normal channels, including directly from Apple.
However, it's not clear if it will be available in a system purchased from Apple's website. The older Quadro FX 4800 can be purchased from the company's online store as stand-alone part, but it isn't possible to select it as an option in a Mac Pro. Given the state of the company's current relationship with NVIDIA, we find it unlikely that the new Quadro will appear as an option either.
There's also no sign of the higher end Quadro 5000 and 6000 cards which are based on the more powerful GeForce GTX 465 and GTX 470 cards, even though they have been available for Windows workstations for some time.