Once you have a good die architecture that's attaining high yields, it can make sense to release a more powerful version with more of the core enabled. NVIDIA is certainly no stranger to this, but now it seems to be gong the other way by stripping down the GF104 GPU, creating a lower-power derivative of the well received GTX 460.
According to German site Heise.de, the new card will ship with 288 shaders and be christened the GTX 460 SE. This is down from 336 shaders on a normal GTX 460, meaning that another one of the 48-core Streaming Multiprocessors (SMs) will be switched off. The rest of the core will be left intact, though, so the new card will at least get the benefit of a 256-bit memory interface which will be connected to 1GB of GDDR5.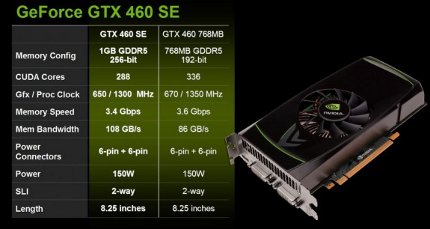 It's not just the core that's been cut back - the clock speeds have been taken down a notch as well, though thankfully by a smaller margin. The core frequency will be 650MHz, which is down 25MHz from the original GTX 460s, and gives a shader frequency of 1,300MHz. Memory speed will take a slight dip to 850MHz, but the wider bus should mean that total bandwidth is still higher than the 768MB original. Disappointingly, power-draw is listed at 150W, which is the same as the 768MB GTX 460 despite the cut-backs made to the core.
Performance should fall somewhere between the weaker of the original two GTX 460s and the GTS 450, which would point to a retail price in the region of £110-120. However, there have been suggestions that the SE suffix implies an OEM only part, which could cause a lot of confusion for some consumers.
We won't have to wait long to find out for sure, as the part is rumoured to launch on November 15.