PowerColor has been teasing us with little morsels of its new, novel cooling system - Vortex.

First announced during last month's COMPUTEX trade show, we delved deeper into PowerColor's whirlwind last week, sharing some more pertinent particulars with you.

Anyhow, the company is now ready to debut what it calls the Vortex Cooling System - in the form of a PCS+ HD5770 Vortex Edition.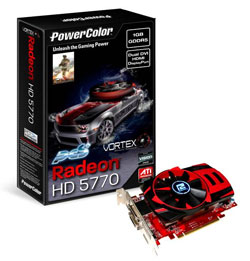 It just wouldn't be a fitting send-off for your latest and greatest cooling innovation without an overclocking challenge thrown in, so in the usual vein of PCS+ offerings, Vortex will be strutting its stuff on a factory-overclocked part boasting core speeds of 900MHz and memory speeds of 1,225MHz (4,900MHz effective).

Obviously gushing, PowerColor imparts that the functionality present, which enables users to adjust the physical attributes of the fan solution, allows a temperature advantage of up-to 15 degrees Celsius, compared to reference solutions. Described as whirlwind technology, Vortex claims to harness air from the card's surroundings and focus maximum cooling potential towards vital components.

Mark July 28th on your calendar as this is when PowerColor advises us to expect availability. If Vortex wasn't enough to whet your appetite, could the well-relied-upon Call of Duty: Modern Warfare 2 coupon sweetener seal the deal?