MSI shows off odd-ball graphics boards

MSI shows off odd-ball graphics boards



If you wander to Hall 2 at Computex and make your way to the MSI stand, there's a couple of interesting graphics boards for you to take a look at. The first is MSI's attempt to put NVIDIA SLI on a single board. The NX6800Ultra Dual GPU houses a pair of 6800 Ultra chips, each with 512MiB of memory. The massive board has a pair of power connectors - one for each GPU - and a single slot cooler covers both chips.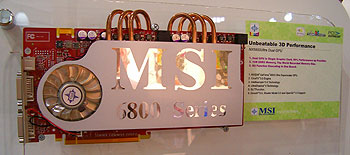 The second board is a Radeon X800 (presumably R423 powered) that can be used in both AGP and PCI Express slots, with the edge connectors for both on the board.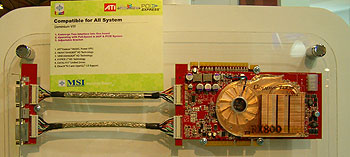 With a pair of DVI ports attached to the board via ribbon cables, and presumably a RIALTO chip on the rear of the board for the AGP interface, the odd-ball RX800 is definitely a board for the upgrader. Want to move to PCI Express in the future, without spending money on a new graphics board? Seems like the board for you.