EIZO has just announced a new monitor in its FORIS range, the EIZO FORIS FS2333. The strapline which accompanies the new monitor name is "Miss nothing. Ace Everything". This new 23-inch monitor is aimed at gamers and lets the owner see darker areas of the screen more clearly, a feature EIZO call "Smart Insight".
The specification of the monitor can be found on the EIZO site here but I've listed the key specs below.
23" (584mm) diagonal IPS Panel
Native resolution 1920 x1080 pixels (16:9 ratio)
Pixel pitch 0.265mm
Contrast ratio 1000:1 (5000:1 with "ContrastEnhancer")
Response time 3.4ms grey to grey
7 preset modes including; paper, game, cinema, sRGB, Eco friendly and 2 user defined slots
Ambient brightness sensor; Auto EcoView adjusts brightness depending on the lighting conditions
Remote control included
Inputs include D-Sub mini, DVI-D and two HDMI sockets
Built in stereo 0.5W speakers, 3.5mm in and out audio jack and 3.5mm headphone socket
Typical power consumption 22W (power save and standby mode use less than half a watt)
Swivel and tilt but no height adjustments with the built in stand.
VESA standard hole spacing to wall mount
5 year guarantee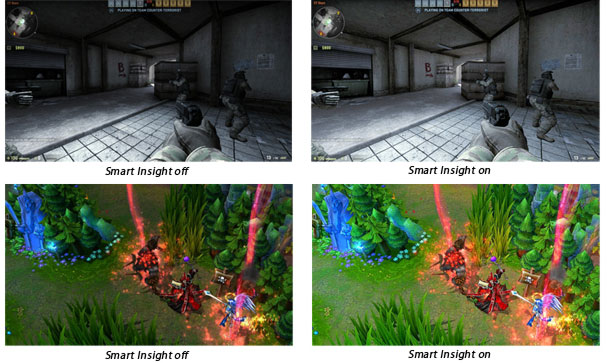 EIZO's examples of Smart Insight
The interesting new "Smart Insight Technology" built into this monitor is said to "vastly improve visibility in dark areas of the screen". The description goes on to say that Smart Insight isn't simply a gamma adjusted setting "Conventional gaming monitors apply gamma correction across the screen to improve visibility which results in blurring and reduced contrast in the dark areas, The FS2333's Smart Insight uses a technique called tone mapping which preserves the image details without reducing contrast. The difference is so significant that it's almost like an unfair advantage."
This sounds a lot like marketing spin because I've adjusted the gamma levels on their example before and after screenshot to a gamma setting of 1.5 and have something that looks the same to my eyes, though I'd like to try it on a larger sized image.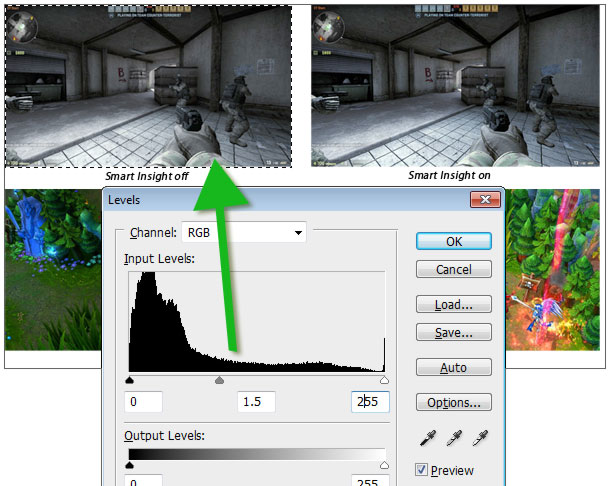 Smart Insight effect replicated using a midpoint level (gamma setting) of 1.5
Another feature that sounds cool is the "Smart Resolution" technology built into this monitor. "The FORIS FS2333 comes with an EIZO-patented super-resolution technology called Smart Resolution that analyzes the displayed content for noise and blur. It ensures the noise is not accentuated while correcting the blur to the extent needed to sharpen the image." This looks like the monitor is using a sharpening algorithm like you can get with the Unsharp Mask function in Adobe Photoshop.
The EIZO FORIS FS2333 monitor should ship in July but no price has yet been revealed. It looks like a very good computer monitor but the extraordinary advantages claimed over other gaming monitors through the use of "Smart Insight" and "Smart Resolution" seem to be exaggerated.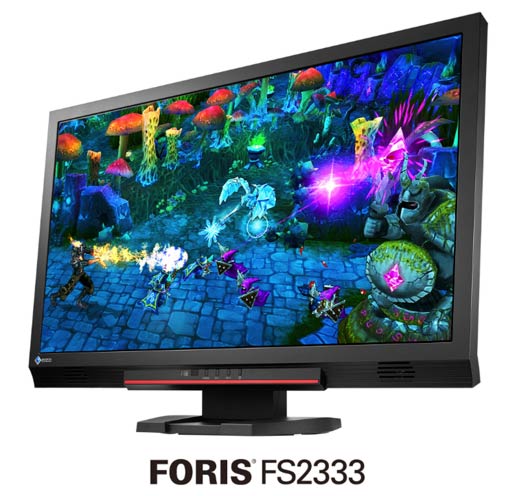 How do you pronounce FORIS? Is it "four-eyes"?