Intel launched its Pentium 20th Anniversary Edition G3258 processor at Computex in June. The processor pays homage to the Pentium name by having an unlocked multiplier so that it is more overclocker friendly. Needless to say, since its availability, many enthusiasts have been pushing this humble sub-£50 dual-core processor to see exactly what kinds of overclocks are possible.
HEXUS reviewed the Intel Pentium Anniversary Edition G3258 a month ago and found it to be "Decent in out-of-the-box form and providing Core-like numbers when readily overclocked to 4GHz and beyond," concluding that "there's little reason for many readers to spend more". However our processor sample only got to a final stable speed of 4.4GHz using the stock fan and a small voltage tweak. Others have been pushing the chip harder with all sorts of cooling solutions and tweaks…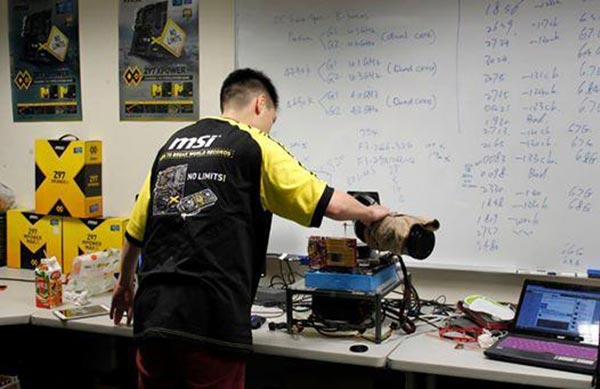 Pentium 20th Anniversary Edition G3258 world record
Yesterday MSI brought to our attention the fact that a Pentium G3258 chip was overclocked, using one of its motherboards, to a record breaking 6816.7MHz. The Taiwanese computer component maker has made available a new BIOS which adds full support for the 'Pentium K' to all its MSI Z97/H97 motherboards – these include the Z97 GUARD-PRO, Z97-G43 and Z97 PC Mate, which are equipped with six-phase power control components.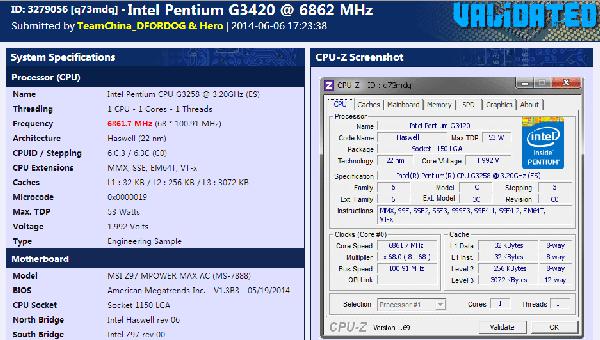 Click to zoom and make readable
MSI says that the new BIOS on the aforementioned motherboards, in conjunction with its OC Genie 4, can automatically overclock the CPU to 4.3GHz. That's a 35 per cent boost "through a single action without any complicated skills and configurations". MSI also advises that a high end air cooling fan should help enthusiasts reach 4.7GHz without so much as a head-scratch. Furthermore the firm's "Guard-Pro safety protections and Military Class 4 components" should help novices avoid any expensive overclocking mistakes.
DDR3 memory world record
Meanwhile Gigabyte has been busy cajoling a record breaking speed out of Kingston's HyperX Predator DDR3 memory, reports HardOCP. At Computex when its Z97X-SOC FORCE LN2 motherboard was launched, the computer system and component maker managed a DDR3 RAM speed of 4.5GHz and more recently has pushed that further to 4.56GHz.
There's a video below showing Gigabyte's feat being verified using an oscilloscope.