Qualcomm has announced a next generation Snapdragon SoC called the Qualcomm Snapdragon 805 processor. The main aim of the chip is to "deliver the highest-quality mobile video, imaging and graphics experiences at Ultra HD (4K) resolution," both on the device and to displays connected to the Snapdragon 805 powered device. Much of the Snapdragon 805 SoC's enhancements come from the new Adreno 420 GPU which Qualcomm claims dishes up 40 per cent more graphics muscle than its predecessor the Adreno 330.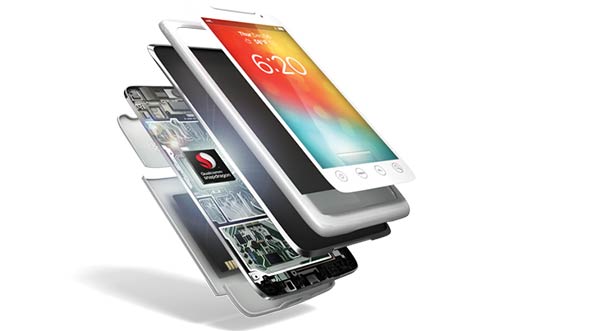 "Using a smartphone or tablet powered by Snapdragon 805 processor is like having an UltraHD home theatre in your pocket, with 4K video, imaging and graphics, all built for mobile," said Murthy Renduchintala, executive VP, Qualcomm Technologies, Inc., "We're delivering the mobile industry's first truly end-to-end Ultra HD solution, and coupled with our industry leading Gobi LTE modems and RF transceivers, streaming and watching content at 4K resolution will finally be possible."
The Snapdragon 805 is now at the pinnacle of the range offered by Qualcomm and speeds along thanks to the following key features:
Krait 450 quad-core CPU, running at speeds of up to 2.5 GHz per core, memory bandwidth support of up to 25.6GB/s. This improves upon the 2.3 GHz max clock seen on the Krait 400 CPU of the Snapdragon 800.
Adreno 420 GPU with support for hardware tessellation and geometry shaders. Qualcomm calls this the "mobile industry's first end-to-end Ultra HD solution with on-device display concurrent with output to HDTV".
Connectivity via the Qualcomm Gobi MDM9x25 or the Gobi MDM9x35 LTE modems and the Qualcomm VIVE 802.11ac which facilitates 4K video streaming.
Hardware 4K HEVC (H.265) decode for mobile for extremely low-power HD video playback and support for Hollywood Quality Video (HQV) post processing.
Supports camera data at 1 Gpixel/s throughput which will enable "a significant increase in camera speed and imaging quality".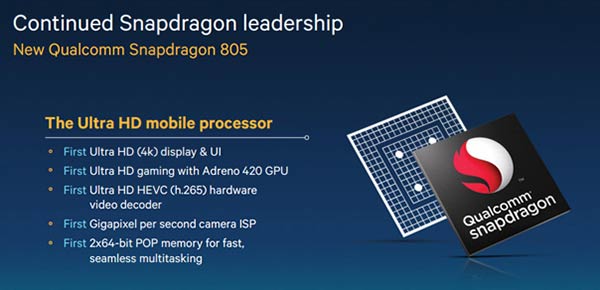 Qualcomm SoC partners have already got their hands on engineering samples of the Snapdragon 805 and commercially available devices will be packing the chip before the end of H1 2014. The Snapdragon 800 has proved to be a very popular choice in high end smart connected devices, Qualcomm must think this video and imaging enhancing refresh is what is desired by the market for the next wave of top end smartphones and tablets and enough to keep it at the top of device buyer's wish lists.