An AnTuTu benchmark result for an Android system powered by a 'Bay Tail T' processor has been leaked. The Bay Trail processor under test was a part with two 1.1GHz Silvermont cores running at 1.1GHz, it scored 43,416 in the AnTuTu benchmark. Compare this result to Qualcomm's flagship Snapdragon 800 chip with four cores and a clock speed of over 2GHz - Android devices with these chips score around 25,000 to 30,000 in the AnTuTu benchmark.
Less than a fortnight ago HEXUS wrote about the upcoming premium smartphone and tablet processor battle. Both Intel and ARM seem to truly believe they have the ammunition to claim victory in this next mobile performance tournament. Intel claims that ARM's fastest in-production chip, the Cortex-A15 SoC "is not even close to [Intel] Silvermont. They are higher power and much behind us on performance which means they are on the wrong scale." ARM says that, it is "more than a generation ahead [of Intel Silvermont]. We've maintained out leadership in this place".
Now we have this leaked Silvermont benchmark result it does seem that Intel's Silvermont is almost twice as fast as a current generation top of the range ARM chip. The 43,416 AnTuTu score is very impressive for the Intel based part considering it is clocked so much lower and has only two cores compared to many ARM quad core SoCs. For reference, popular mobiles such as the LG Nexus 4 score 16K in AnTuTu, the Samsung Galaxy S3 scores 15.5K and the HTC One scores 24.3K.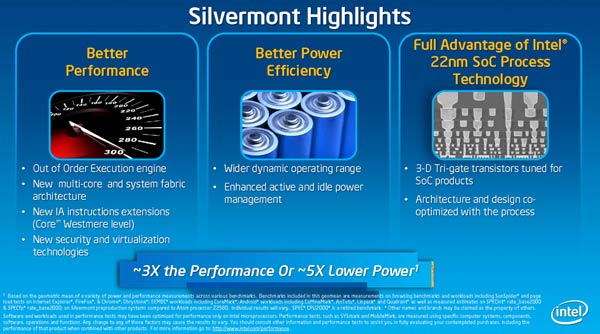 The 'Bay Trail T' looks also like a big improvement on previous Atom processors. Its next-gen microarchitecture, built using the 22nm process, offers manufacturers a choice to balance approximately 3X performance against 5X lower power consumption. Intel's Silvermont chart illustrating this performance vs power is embedded below.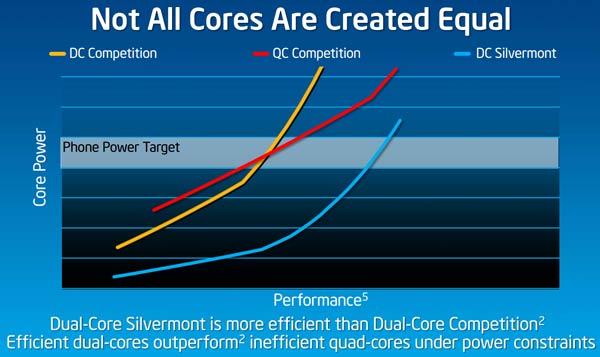 Devices using Intel's Silvermont cores will be on sale by Xmas this year according to previous reports. Investor news site Seeking Alpha thinks that the new Atom chips could bring a big change to the mobile processor market where Intel has previously struggled to compete.