AMD has been in a giving mood of late. Take the company's Radeon graphics cards as an example. Launched back in October 2012, AMD initiated the Never Settle bundle where, depending upon actual Radeon purchase, users received codes for Far Cry 3, Hitman: Absolution and Sleeping Dogs.
Upping the ante in February with Never Settle Reloaded, AMD currently offers Crysis 3, Tomb Raider and BioShock Infinite on HD 7900-series cards, reducing to Tomb Raider and BioShock on HD 7800-series cards and, finally, to BioShock alone on the all-new HD 7790. The games are decent and offer genuine added value for said Radeon GPUs.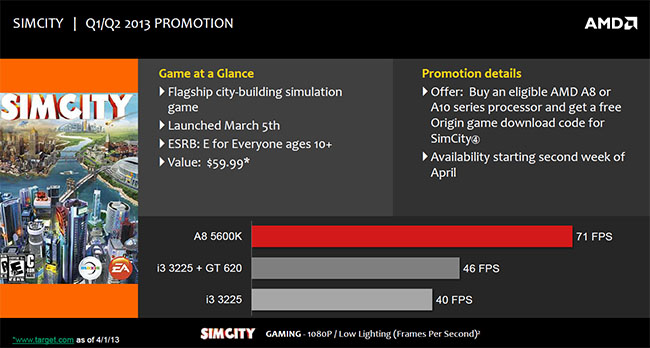 AMD is now extending this type of promotion to its range of Accelerated Processing Units (APUs). From next week onwards, selected retailers will be bundling Origin-redeemable codes for SimCity with eligible AMD A8 and A10 APUs. It is not clear at this juncture which, if any, A8 and A10 APUs may be ineligible, for whatever reason, but assuming AMD covers all premium processors, starting at £80 or so, the promotion, worth £30, does have merit.
The Austin outfit likes SimCity because it makes good use of the APUs' CPU and GPU strengths, as shown by the AMD-supplied graph in the above picture, where an A8 5600K trounces an 'equivalent' Core i3-3225 from Intel. But hey, there are plenty of folks out there with a rather different view of the game.
It's clear that AMD is on a mission to bundle highly-visible titles with its graphics cards and, now, APUs. We imagine that purchasing these bundles, albeit in substantial volume, is an expensive exercise, so are left wondering what kind of impact this is likely to have on the bottom line. Whatever the economics of the promotions, it's good to see AMD tie hardware and software together.
Update: 11:50. The A8 5500, A8 5600K, A10 5700 and A10 5800K are all included in the promotion.