The existence of socketed CPUs and the component upgradeability of PCs was the bedrock upon which enthusiast computing sites like HEXUS were formed. PCs have been readily customisable, tinker friendly and upgradeable in nearly every way for about 30 years. Could the ability to readily swap out your Intel CPU be hobbled in the not-too-distant future? According to a leaked roadmap from Intel, uncovered by Japanese computer website PC Watch, the answer is yes.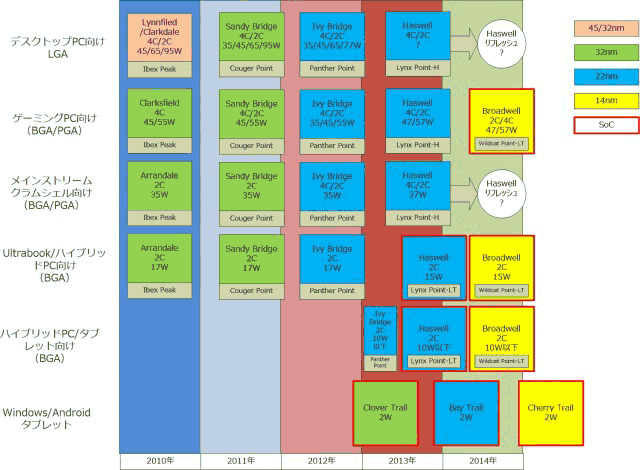 The rumour suggests that Intel's Haswell line of processors are the last that will be available in a socketed processor package. The successor to Haswell, known as Broadwell, will only be available in BGA or ball-grid-array variants says the Japanese PC Watch website. If these future BGA chips are anything like current BGA processors then they will only be available fixed onto a motherboard using small balls of solder, as the BGA acronym indicates. Some sites suggest that the BGA move could help reduce thermals and also factor thickness; good for portables.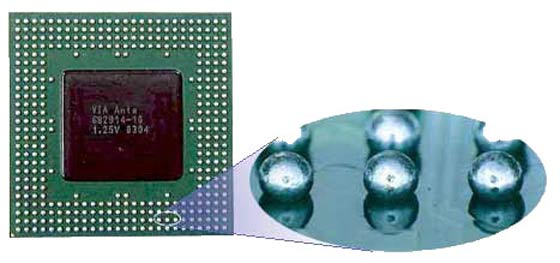 The balls of a BGA chip
As Intel are aiming for the lower power consumption and small form factors that ARM processors are currently found within it seems like some of the socket interchangeable flexibility will have to be given up. PC Watch also says that Broadwell will have the platform controller hub as part of the processor package which moves it closer to SoC territory.
Though I have never actually upgraded a CPU on any PC I have made since 1990, it's nice to have the future option and I sometimes have planned to do a CPU upgrade. In the end I usually decide to replace the whole of my PC's innards or just the whole PC. That's going to happen again soon!
This rumour from Japan might just be part of a bigger picture which does include socket interchangeable CPUs from Intel. It's hard to know the truth but it's still interesting to see what might be being planned. As usual all will be revealed in time.