ARM has just announced a new range of processors called the ARM Cortex-A50 Series. These are 64-bit capable processors, backwardly compatible with the current ARM 32-bit ecosystem. The initial two members of the A50 Series; the Cortex-A53 and the Cortex-A57 will deliver "up to three times the performance of today's superphones and extend today's superphone experience to entry-level smartphones" according to ARM's press release.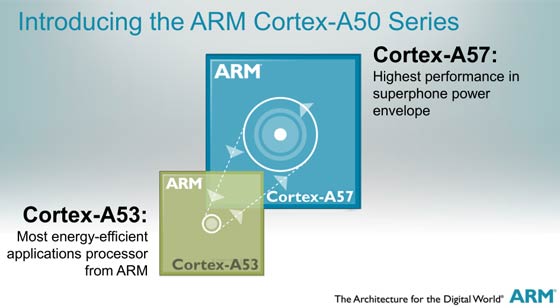 Performance
The Cortex-A53 and Cortex-A57 introduce a new energy-efficient 64-bit processing technology to ARM SoC users. The Cortex-A53 is "the most efficient ARM application processor ever, delivering today's superphone experience while using a quarter of the power"; it is also the world's smallest 64-bit processor. Its big brother the Cortex-A57 is currently ARM's "most advanced high-performance applications processor" and it "provides computer performance comparable to a legacy PC, while operating in a mobile power budget".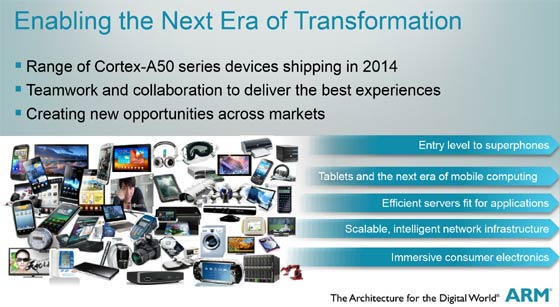 As mentioned in the introductory paragraph these two 64-bit processors are fully backwardly compatible with the ARM 32-bit ecosystem. Additionally ARM claims that the new Cortex-A50 Series is scalable to address markets as diverse as smartphones and high performance servers.
big.LITTLE
ARM describes the efficiencies that can be yielded using the Cortex-A57 and Cortex-A53 in a big.LITTLE configuration. This processor combination "will enable platforms with extreme performance range while radically reducing the energy consumption". An example big.LITTLE configuration using a combination of the Cortex-A15 and the Cortex-A7 is diagrammed below.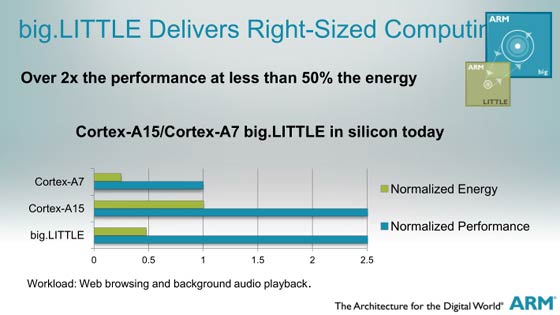 Below is a diagram of the performance vs energy consumption of the Cortex-A57 and Cortex-A53 in a big.LITTLE configuration.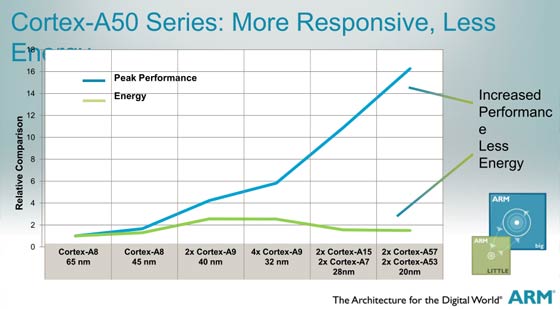 Looking at past achievements and toward the future the press release said "In the past five years, the ARM ecosystem has driven a 15x increase in the performance of smartphones, enabling a transformation in how people use their devices. The capabilities of the Cortex-A50 processor series allow it to seamlessly transition from a 32-bit to a 64-bit execution state, enabling today's existing applications, and provides scalability to 64-bit for mobile computing client evolution and future superphone trends." More recent news from ARM indicated an intention to push into Intel's profitable server markets just like Intel intends to push into ARM's home territory of mobiles and tablets. How will this technological arm wrestle end?
ARM has announced that licensees of the new processor series already include AMD, Broadcom, Calxeda, HiSilicon, Samsung and STMicroelectronics. Earlier today we learnt about a co-operative project with AMD. Dr. Lisa Su, senior vice president and general manager, Global Business Units at AMD said "ARM's Cortex-A50 series processors combined with AMD's unique low-power dense compute fabric, will bring new levels of choice and energy efficiency to the data center compute landscape and ignite a new 64-bit server ecosystem". Confirming ARM are aiming the Cortex A50 series at energy efficient data infrastructure solutions.
These new 64-bit ARM chips sound extremely impressive in both their horse-power and power sipping efficiency. You will have to wait quite a bit until you have an A50 powered device in your hands though, as chips from the Cortex-A50 series aren't expected to be available until 2014.