A recent report from Tom's Hardware has shed a little more light on the upcoming AMD Trinity APU line-up, with the chip looking very promising indeed.
Like-for-like, the new 'Piledriver'-based Trinity CPU is to be 29 per cent faster than its Llano counterparts, with the chip witnessing an even greater improvement in graphics performance, with a 56 per cent increase, all manufactured on GlobalFoundries' 32nm node, with figures originating from PCMark Vantage and 3DMark Vantage respectively. It has been suggested that Turbo Boost 3.0 could offer up to a 900MHz over-clock, bringing some APUs comfortably over the 4GHz mark.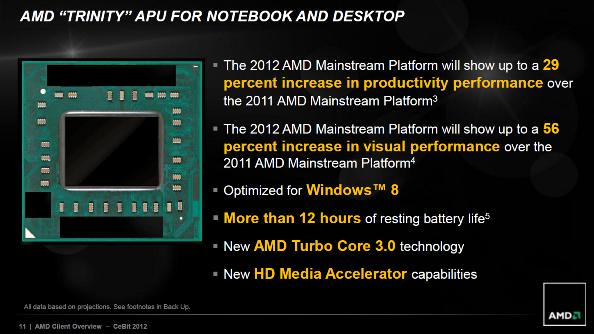 Trinity's GPU is based on the VLIW4 instruction-set from AMD's Radeon HD 6900-series of graphics cores, as opposed to the new GCN architecture, though this is still a step-up from the 5900-series design featured in Llano and, aside from a clear boost in core-count and/or clock speed, AMD has enhanced Trinty's graphics offering further with the inclusion of VCE, the video codec engine found in the new 7000-series of GPUs, AMD's answer to Intel's Quick Synch, enabling low-power hardware encoding of H.264, along with several enhancements to accelerated video playback.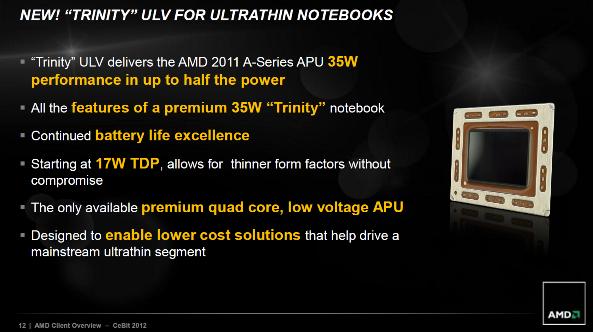 As previously reported, AMD will be offering ULV variations of Trinity, which will provide identical performance to current 35W Llano offerings, whilst running on TDPs as low as 17W. These ULV components will feature all of the new elements that make up Trinity as well, such as the VCE and other video enhancements, along with Turbo Core 3.0, setting Trinity up as a serious contender in the Ultrabook/Ultrathin market.