Such an exciting prospect, Intel finally making a move for the mobile market, we'll hold off on the background information and give you what you came for first, the performance figures of Intel's new mobile 'Medfield' chip - courtesy of VR-ZONE.
Benchmark platform specifications
| | |
| --- | --- |
| CPU | Intel 'Medfield' x86 core at 1.6GHz |
| RAM | 1GB LP-DDR2 |
| Connectivity | WiFi/Bluetooth/FM Radio |
| Storage | eMMC/Micro-SD |
| Screen | 10.1" 1280x800 |
| OS | Android 3.2 |
Benchmark Results
Tests performed in CaffeineMark 3 - Java Benchmarking Program.
| | |
| --- | --- |
| Intel 'Medfield' | 10,500 |
| Samsung Exynos 4212 | 8,500 |
| Qualcomm Snapdragon MSM8260 | 8,000 |
| NVIDIA Tegra 2 | 7,500 |
VR-ZONE claims to have received information on other benchmarks though has chosen to list these figures to the public. It's worth noting that currently the 'Medfield' parts are consuming around 2.6W in idle and 3.6W with 720p Adobe Flash video playback, though Intel hopes to reduce idle consumption to 2W and video playback to 2.6W before beginning mass-production of the chip, bringing the chip towards the same power ballpark as competing ARM products.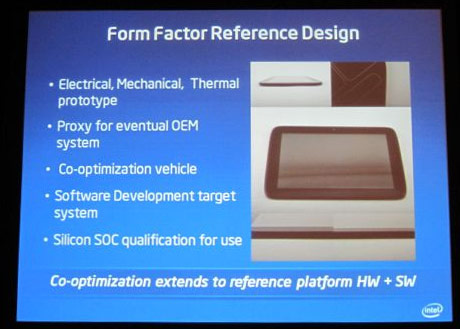 We expect an official announcement of the 'Medfield' SoC at CES, with full availability later-on in the year. Certainly such a platform would benefit from the binary compatibility of x86 if one were running Windows, though oddly enough benchmarks have been on the Android platform, where whilst pure Java applications should have no issues running, applications with native C++ components would need to see themselves recompiled to function on the platform.
The benchmarks depict a clear lead of 24 per cent over the Exynos SoC, though, the Samsung chip is a 1.5GHz dual-core ARM Cortex-A9, it's worth noting that by the time 'Medfield' products hit the market, the new low-power x86 core will have to compete with the likes of the Exynos 5250, a 2.0GHz dual-core ARM Cortex-A15 and the NVIDIA Tegra 3, a 1.4GHz quad-core ARM Cortex-A9. With the Exynos and Tegra SoCs receiving a refresh around once per year, whilst Intel's entry into the mobile market will no doubt create quite the impact, the firm will be entering against stiff competition; with its only edge, seemingly, support for the x86 instruction-set, Intel's performance in the mobile market will be something to watch extremely closely over 2012.