Further fusion
At the GTC2011 event in Silicon Valley - hosted by chip manufacturer Global Foundries - some more details were revealed about AMD's next-generation performance APU.
The successor to 'Llano' - now known as the A-series family of Fusion chips - will be called 'Trinity'. It will feature a new core architecture called 'Piledriver', combined with Radeon HD7000 graphics, and make an appearance this year. The next new core architecture - 'Bulldozer' - is due to be launched soon.
The context for talking about Llano was for GF to big-up its 32nm process, which made its first appearance in that chip generation. After the recent executive upheaval at GF, interim CEO Ajit Manocha used much of his keynote to reassure the hundreds of representatives of its customers at the event that GF can be relied on.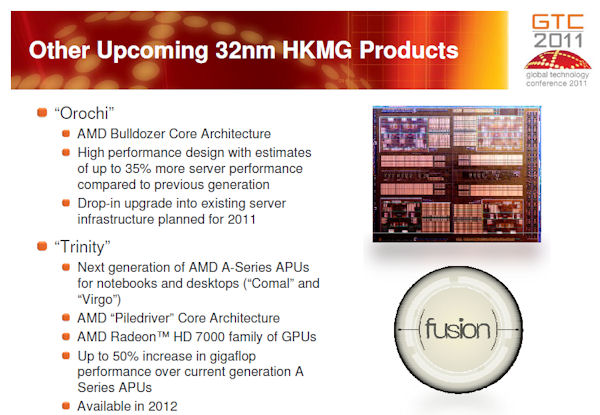 A big part of that message was to stress that GF was dealing with the many challenges faced by moving to the 32nm HKMG process, has delivered to AMD, and has learnt from the experience. Manocha was also happy to announce that the new fab in upstate New York has reached the stage where it's ready for equipment to be installed two months ahead of schedule.
While Fab 8 will initially focus on 32nm and 28nm manufacture, the plan is to move it along to 20nm by the end of next year. We asked Manocha what he thinks GF's key propositions are for taking business from TSMC, and he stressed that advanced processes and capacity were key factors. "Right now we're struggling to meet demand," he said. "They want us to be the main choice and they see that we're offering a differentiated value proposition."