GIGABYTE's CPU support lists are proving to be a useful source of supposedly-confidential information.
Late last week, the Taiwanese manufacturer's website let slip clock speeds and model numbers for unannounced AMD hexa-core processors, codenamed Thuban.
Turns out there's plenty more waiting to be discovered, and the latest unannounced product to be unearthed via GIGABYTE's CPU support list is the Intel Core i7 875K.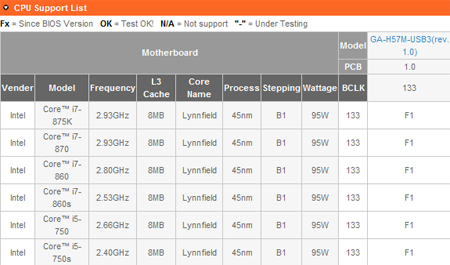 Intel isn't commenting on the leak, but the chip - according to GIGABYTE's specification - is seemingly identical to the existing Core i7 870.
According to the rumour mill, what differentiates the part is an unlocked multiplier - allowing enthusiasts and overclockers to push the chip that little bit further with relative ease.
Our review of the Core i7 870 from September 2009 suggested that the chip had ample overclocking headroom, and a multiplier unlocked version makes sense as a direct competitor to AMD's Black Edition parts.
The Core i7 875K is thought to be compatible with existing Socket LGA1156 motherboards via a BIOS update, but there's no information on when - or indeed if - the chip will become available. Speculating on price, we'd expect the overclocker-friendly part to be priced above the standard Core i7 870, which currently retails at around £450. Not quite Phenom II X4 Black Edition territory, then, but a new toy for the enthusiasts to play with.