Intel's mainstream Nehalem derivative - Core i5 - is believed to be hitting the market sometime in Q3 this year, and though we've already seen leaked CPU speeds and pricing, we can't seem to recall many compatible third-party coolers.
Hoping to get a head start on its competitors, Switzerland's Arctic Cooling is today launching a trio of CPU coolers that support the upcoming Intel Core i5 Socket LGA1156.
The Alpine 11 series, pictured below (from left to right: Alpine 11, Alpine 11 Pro and Alpine 11 Pro GT), offers a future-proof solution to users contemplating a Core i5 upgrade, and is multi-compatible with Intel's existing Socket LGA775.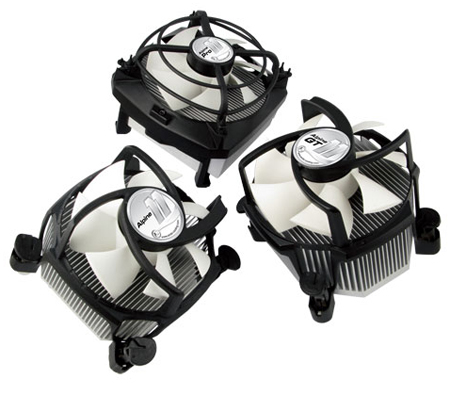 The Alpine 11 and Alpine 11 GT, equipped with 80mm and 92mm PWM fans respectively, claim to keep noise levels down to 0.3 / 0.4 Sone when operating at full speed.
The Alpine 11 Pro, meanwhile, features a 2,000rpm 92mm PWM fan, a larger heatsink and a patented vibration-absorption design that'll keep noise levels below 0.4 Sone - a standard that Intel's stock cooler can't compete with, says Arctic Cooling.
What's most interesting, however, is each cooler's specified maximum cooling capacity. According to Arctic Cooling, the Alpine 11 coolers are rated at 70 Watts, 90 Watts and 95 Watts, respectively. With all three listed as Socket 1156 compatible, will we be seeing Core i5 parts with a TDP of 70 Watts or less? Perhaps Arctic Cooling knows something we don't.
Arctic Cooling lists the completely specifications as follows:
Alpine 11 GT
Alpine 11
Alpine 11 Pro
Target
Target group
Mainstream
Mainstream
Power
Dimensions
89 L x 89 W x 75 H (mm)
100 L x 96 W x 87 H (mm)
105.3 L x 113.4 W x 85 H (mm)
Fan
80mm
92mm
92mm
Fan speed
500 – 2,000 RPM
(controlled by PWM)
900 – 2,000 RPM
(controlled by PWM)
500 – 2,000 RPM
(controlled by PWM)
Air flow
28.6 CFM / 48.5 m3/h
36 CFM / 62 m3/h
36.7 CFM / 62.2 m3/h
Max cooling
capacity
70 Watts
90 Watts
95 Watts
Noise level
0.3 Sone
0.4 Sone
0.4 Sone
Bearing
Fluid Dynamic Bearing
Fluid Dynamic Bearing
Fluid Dynamic Bearing
Weight
286g
370g
428g
Compatibility
Intel Socket 1156, 775
Intel Socket 1156, 775
Intel Socket 1156, 775
Patents
DE 20307981, US
7101149
DE 20307981, US 7101149
DE 20307981,
DE202005011514, US7101149,
CN 200610106209
MSRP
(excl. VAT)
$8,00 / €5.60
$10.25 / €7.10
$14.35 / €9.90