Corsair today announced the Hydro Series H75 dual-fan 120mm liquid CPU cooler. With this new easy-to-install solution Corsair says it is aiming to "bring dual-fan 120mm liquid CPU cooling to the masses". This new mid-range liquid cooler will be available from November at a suggested price of $84.99, just $5 more than the single 120mm fan equipped Hydro Series H60 but a decent $25 below the similar form factor twin 120mm fan equipped "high performance" H80i unit.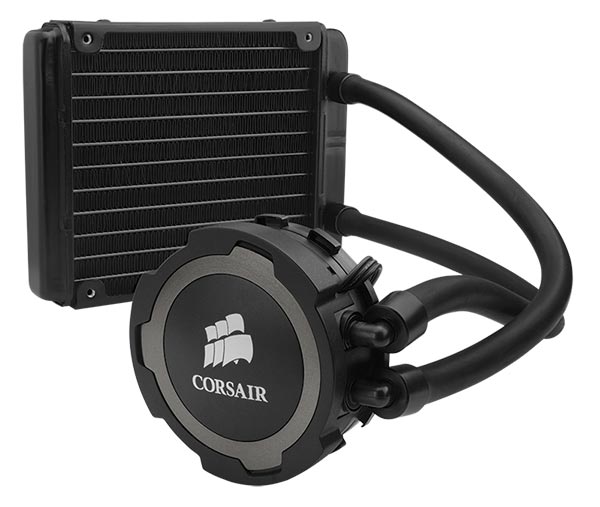 The new Hydro Series H75 is easy to install (a walk through video is embedded below) and employs a 120mm dual-fan setup stacked with the 25mm thick radiator unit so it will fit easily into most PC cases on the market today. "The H75 is a great choice for PC enthusiasts who want the streamlined features of our H60 120mm cooler but desire the additional cooling performance of a dual fan design," said Xavier Lauwaert, Director of Product Marketing at Corsair.
Corsair tells us that the low-profile CPU cooling block used in the construction of the Hydro Series H75 utilises a micro-fin copper cold plate for efficient heat transfer. The CPU cooling block is connected to the radiator-fans unit via kink-resistant rubber tubing. Like all the rest of the Hydro series the H75 liquid doesn't require topping up or maintenance.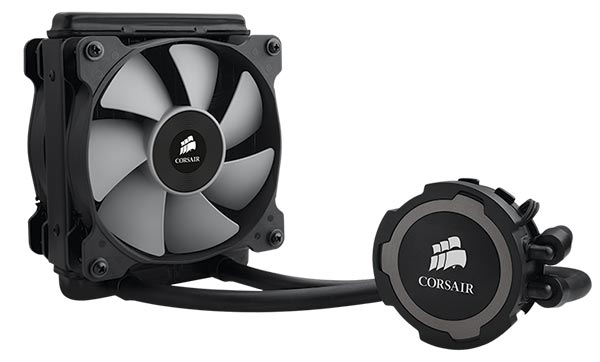 Low noise considerations
To help keep noise produced by the Hydro Series H75 cooler to a minimum Corsair has implemented two main design decisions; first of all the ceramic bearing pump is said to provide reliable, low-noise heat transfer away from the CPU, secondly the dual SP120L fans are PWM motherboard compatible so can automatically run slower or faster to adapt to temperatures and keep fan noise at minimum levels.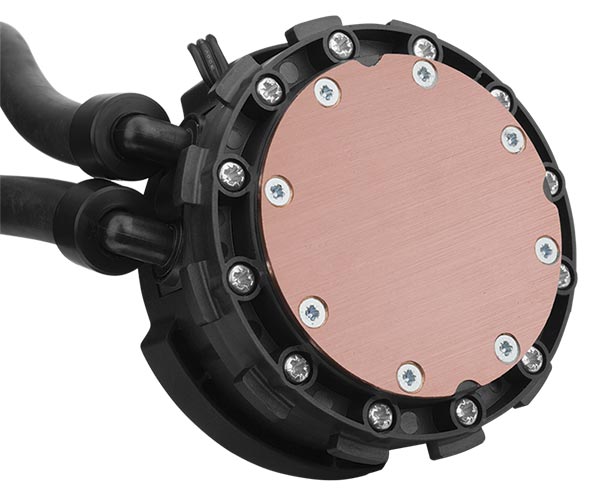 Corsair Hydro Series H75 specifications:
120mm aluminum radiator: 120mm x 152mm x 25mm
Two SP120L PWM 120mm high static pressure fans: 120mm x 25mm, 2000 RPM (+/- 10%), 54 CFM, 31.4 dBA
PWM fan control for customizable cooling
Support for AMD and Intel CPUs
AM2, AM3, FM1, FM2, LGA 1156, 1155, 1150, 1366, 2011
Advanced copper cold plate and manifold design
Tool-free bracket for simple installation on most Intel and AMD motherboards
Sealed all-in-one design, pre-filled and maintenance free
5-year limited warranty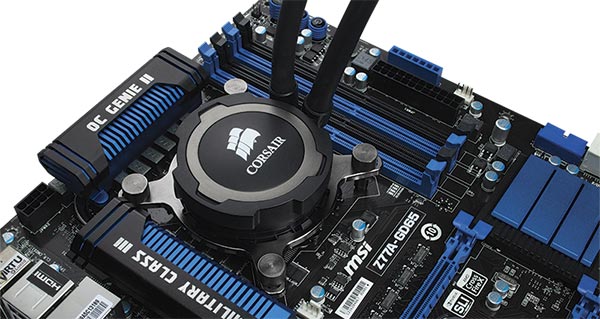 Corsair must hope that the H75 hits a few computer systems builder's sweet spots with its balance of price and cooling performance. As mentioned above the price is a full $25 lower than the next cheapest twin 120mm fan liquid cooler in Corsair's Hydro range, the Hydro Series H80i High Performance Liquid CPU Cooler. Incidentally $35 more can secure you the Hydro Series H100i Extreme Performance CPU Cooler with a 240mm radiator, if your case can accommodate it and your wallet is willing.