A team from Brazil claims to have set a new record for overclocking AMD processors by pushing one of the company's CPUs to an astounding 7,134MHz.
This is far from the record speed for a desktop CPU - in fact, HWBot reports that it's 144th, far behind the record of 8,199.5MHz - but what makes the feat special is the type of processor that was used. Firstly, this is the fastest that anyone has every pushed an AMD CPU, which is obviously an achievement in its own right.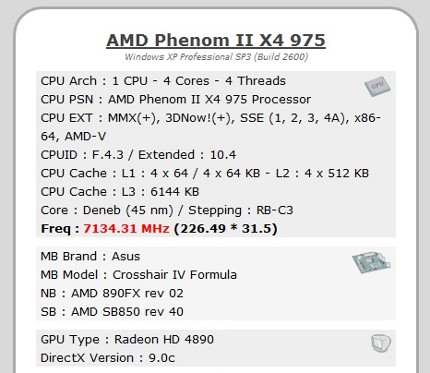 However, what makes this all the more impressive is that it was carried out using a Phenom II X4 975BE with a stock frequency of 3.6GHz. Each one of the 143 entries that are ranked faster is an older single-core Intel Pentium 4 or Celeron CPU, making this AMD chip the fastest modern multi-core processor on record.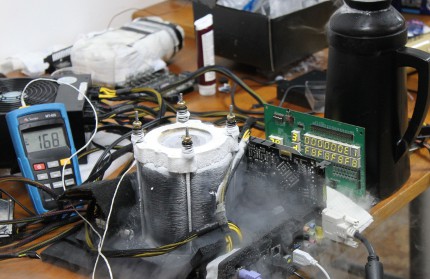 The feat was achieved with liberal helpings of liquid nitrogen which allowed the voltage to be increased to 1.788V. This meant that the bus speed could be set to a modest 226MHz while the multiplier was boosted from 18 to 31.5, for a total speed of 7,134.3MHz. However, the maximum benchmark-able speed was 'only' 6,943.9MHz. The motherboard used was a high-end ASUS Crosshair IV Formula, which is based around AMD's 890FX and SB850 chipsets.
There has been some confusion over the fact that the record wasn't able to be validated by CPU-Z, but the fact that the score has already made it into the official rankings probably means that it won't be a problem. More details on the session, as well as the settings used, are available on the xtremesystems forums.