The experts from Arctic Cooling have been in the lab again and have emerged with a reworked version of its high-end graphics-card cooler. The Accelero XTREME Plus brings the cooling performance of its predecessors as well as compatibility with a range of the latest GPUs.
The design uses three 92mm fans that should provide a massive amount of cooling as they force air over the 84 aluminium fins. To keep noise-levels low, the fans are of the low-speed PWM variety, generating only 0.5 Sone at the maximum speed of 2,000RPM. This is far below the relative cacophony generated by many stock coolers.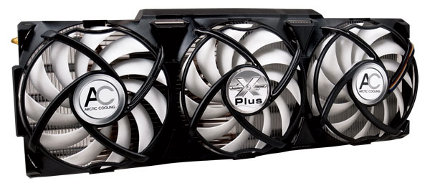 This all adds up to some impressive cooling-performance. Arctic Cooling claims that the Accelero XTREME Plus can keep a Radeon HD 5870 only 18° above ambient temperatures at 2,000RPM, compared to 54° for the stock-card running at the same fan speed. Even with the standard fan turned up to 4,000RPM it can't come close to the company's new cooler.
With the ability to handle a TDP of up to 250W, the HSF should also allow for some serious overclocking headroom.
While the older version of the Accelero XTREME was only available for ATI's HD 5870 and 5970, compatibility has been greatly expanded with the revised model. The new cooler will work with all cards in the Radeon 5800-series, 4800-series and 3800-series, as well as NVIDIA's GTX 250, 260, 275, 280, 285, 465, 470 and 480 cards. The XTREME Plus will also be compatible with multi-GPU CrossFire and SLI set-ups.
Arctic Cooling hasn't indicated when its latest and greatest will be available, but it should arrive in shops soon for $65.95 (around £51 including VAT).