The GPU battleground is heating up as NVIDIA's Fermi looms, but you can always rely on Arctic Cooling to tone down the temperature a notch or two.
The Swiss manufacturer of all things cooling has recently introduced a duo of new VGA coolers for AMD's top-end graphics cards, the Radeon HD 5870 and Radeon HD 5970.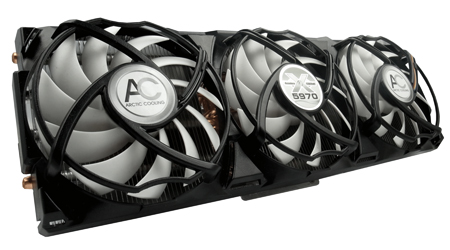 For the latter, there's the Accelero XTREME 5970, an aftermarket cooler that makes use of three "ultra quiet" 92mm PWM fans - each equipped with a low-noise impeller and able to run at speeds ranging from 900RPM to 2,000RPM.
That'll provide a maximum airflow of 81CFM, aimed directly at the massive array of eight heatpipes and 119 fins lying underneath.
Arctic MX-2 thermal compound is pre-applied to the cooler's two contact points - one for each Radeon HD 5970 GPU - and Arctic Cooling reckons the Accelero XTREME 5970 is capable of providing a 300 watt cooling capacity.
Putting that into practise, the manufacturer reckons its solution will reduce GPU temperature to 40.6°C with the fans running at 2,000RPM. That's almost a 50 per cent decrease compared to AMD's reference design, says Arctic Cooling, and noise levels will drop too - from 3.5 sone down to 0.5 sone.
If it looks familiar, that's because Sapphire is known to be using the cooler on its upcoming Radeon HD 5970 4GB graphics card.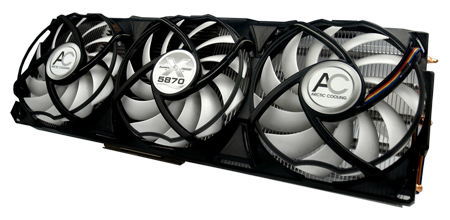 Meanwhile, the Accelero XTREME 5870, designed for AMD's fastest single-GPU graphics card - ATI Radeon HD 5870 - features the same three fans connected to a smaller array of five heatpipes and 83 fins.
It provides a cooling capacity of 250 watts, and if Artic Cooling's in-house figures are correct, should provide around a 46 per cent decrease in GPU temperature compared to AMD's reference cooler.
Real-world mileage will vary, of course, but if you find your HD 5970 or HD 5870 to be excessively hot or loud, Artic Cooling's Accelero XTREME 5970 and Accelero XTREME 5870 will be available in the coming months priced at €56.95 and €49.95, respectively. Both solutions come backed by Arctic Cooling's six-year limited warranty.