Virtually-silent graphics cards are proving to be increasingly popular and Thermaltake says it has a new fanless cooler that'll take "your gaming experience to a whole new exciting level".
The monstrous cooler, dubbed the Fanless 330, offers three separate heat-dissipating modules, four copper heatpipes, and more fins than we're willing to count.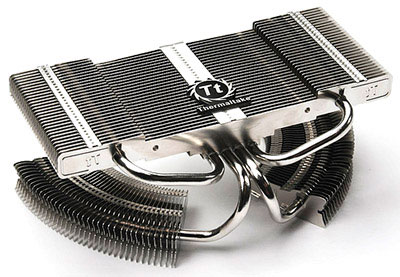 Unfortunately, Thermaltake only goes as far as to tell us that the cooler is "specially designed to solve the noise problem that all extreme PC gamers have been suffering" - there's no actual mention of how efficient it is, so we've no idea what the Fanless 330 can cool. We reckon it'd be able to keep cool a Radeon HD 4850, but anything beyond that might be wishful thinking.
There are a few items of consideration, though. The Fanless 330 isn't exactly small and SLI or CrossFire users may run into problems. Similarly, the copper heatpipes run over the top of your graphics card ruling out usage in low-profile HTPC chassis. Nonetheless, here's Thermaltake's video preview:
If you've watched the above clip, you're probably curious about that space-age CPU cooler, right? Well that just so happens to be the upcoming SpinQ, and thanks to Thermaltake's YouTube addiction, there's a preview video of that too:
The all-aluminium SpinQ features an 80mm fan that'll run at speeds of 1,000rpm to 1,600rpm, and there's a blue LED to add an extra touch of flair. Sadly, There's no mention of availability or pricing for either cooler just yet.