Yesterday well known Taiwanese aluminium PC case maker Lian Li announced a new chassis; the PC-V650, with side mounted power supply. The new mini tower case, of aluminium construction, has a headline feature of being compact yet capable of fitting a standard ATX mainboard and thanks to its internal layout design "still having room to install the hardware that DIY builders desire".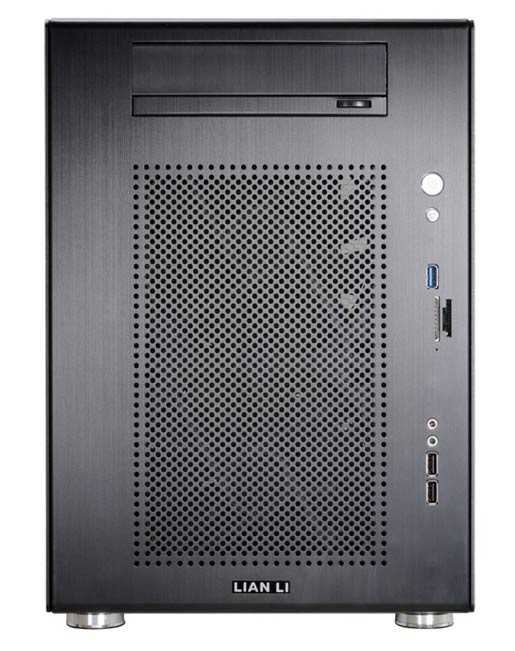 To accommodate full sized "builder's preferred components" the power supply (up to 230mm long) is side mounted in parallel to the expansion slots. Despite the reduced inner space Lian Li say the PC-V650 doesn't sacrifice cooling ability, with 4 fans available to the builder (2 removable). Even CPU coolers of up to 120mm in height will fit comfortably in the case. Water cooling is also supported and there are two rubber grommets for water circulation on the rear of the case.
Despite being a mini tower case you can fit a lot of equipment in here; up to seven 3.5 inch hard drives (2 hot swappable), four 2.5 inch SSDs alongside one 5.24 inch ODD. In another configuration the system builder can sacrifice the lower 3.5 inch HDD cage (four HDD slots) which allows expansion cards up to 370mm long to be installed in the case.
For your convenience Lian Li has the usual ports available on the case front; a USB 3.0 port and two USB 2.0 ports and HD audio in/out sockets, in addition to a card reader. Also making things easy is the screwless access to the inner workings of the case via pop-off side panels.
Lian Li PC-V650 specification list compared with PC-V700
Model

PC-V650

PC-V700 (reviewed here)

Case Type

Mini Tower Chassis

Mid Tower chassis

Dimensions

(W) 251mm x (H) 360mm x (D) 427mm

(W) 210mm x (H) 400mm x (D) 496mm

Colour

Black / Silver

Black / Silver

Body Material

Aluminum

Aluminum

Net Weight

5KG

5.9KG

5.25" drive bay (External)

1

1

3.5" drive bay (External)

None

None

HDD bays

3.5-Inch HDD x 7 ( Hotswap x 2 ) /
2.5-Inch HDD x 4

3.5-Inch HDD x4( Hotswap ) / 3.5-Inch HDD x2 / 2.5-Inch HDD x2

Expansion Slots

7

8

Motherboard

ATX / Micro-ATX

ATX / Micro-ATX

System Fan (Front)

140mm Fan x 2

140mm Fan x 1

System Fan (Top)

140mm Fan x 1

120mm Fan x 2

System Fan (Rear)

120mm Fan x 1

120mm Fan x 1

I/O Ports

USB 3.0 x 1 / USB 2.0 x 2 /
HD Audio / Card Reader

USB3.0 x 2 / USB2.0 x1 / e-SATA x 1 / HD Audio

Maximum Compatibility

VGA Card length: 370mm
PSU length: 230mm
CPU cooler height: 120mm

VGA Card length: 440mm
PSU length: 180mm
CPU cooler height: 160mm
If this PC-V650 case looks familiar to you we reviewed the big brother of it here at HEXUS just a month ago. The Lian Li PC-V700 was, at the time, the company's smallest ATX chassis to date. We found the PC-V700 to be an expensive and handsome looking well designed case, made to a high standard with a quality aluminium frame, cooling performance was good and overall we gave it a score of 4 out of 5. We imagine that the problems we found in the PC-V700 are exacerbated in the PC-V650 because they were issues of (i) size: discrete multi-GPU gaming seemed an unlikely proposition for the case and (ii) noise: a little more soundproofing/insulation would have been beneficial for the chassis.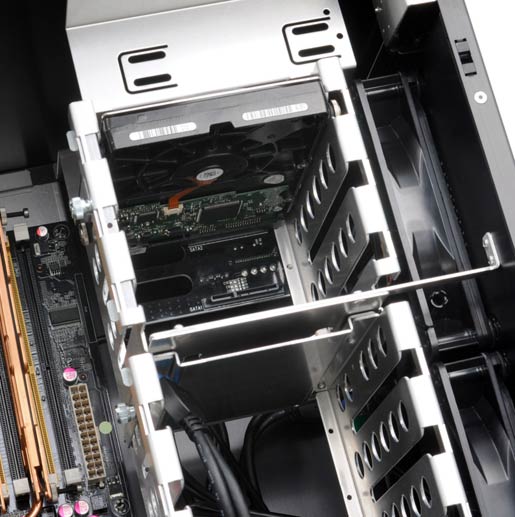 Due to side mounting the power supply Lian Li have got two front fan intakes on the PC-V650 case compared to one on the PC-V700 (which utilises a front mounted power supply). We can't say right now if the PC-V650 is as good as it sounds until it gets into our labs for a thorough test. The PC-V700 is available for about £190 now and the new stumpy PC-V650 has an RRP of £148 before tax (making nearly £180). We will see the actual street/internet prices when the chassis becomes available.