Aplus, a newcomer to the PC case market has launched three new cases. There's a BTX model, an ATX model and finally one aimed at media center users.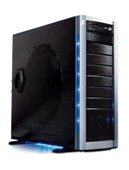 The BTX Xblade, pictured right, is a steel case and will give you up to 10 5.25" drive bays. At the front are four USB ports and a single IEEE1394 port, along with two 3.5mm audio sockets. So, it's a somewhat CM-stacker-esque case in terms of how many drives you can fit in it. Add to that its screwless design and snazzy lighting and it looks rather appealing. You'll get a penny from £80 (excluding Mr. VAT), though, quite a bit for a steel case, but you can be sure that it's sturdy.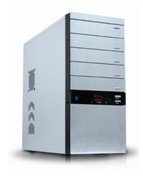 From a steel BTX/ATX Xblade to an aluminium ATX Roma, and this little number is looking rather suarve. In fact, the design is reminiscent of some of the SFF system fronts we've seen, though of course, this is a tower. There's an integrated LCD display which will show fan speeds and temperatures, plus there are plenty of drive bays, with 5x 5.25" and 5x 3.5". Better still, the RRP is a sexy £40 exc.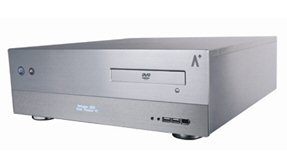 Finally we have the GL-2. It's a media center case designed to accommodate standard ATX motherboards and PSUs. As such it's no petite case, but its design is clean, so it should integrate into a living room quite well. The hard drive bays are heatsink cooled, which is a welcome feature. There's a 16x2 VFD supporting graphic equaliser, system info and media info and more. The GL-2 wouldn't be complete without a remote, so you get one of those too, huzzah. Geared up as a case for those wanting to build an MCPC from standard parts, does it provide enough for £130? We reckon if you're gonna make use of its features, then yes, quite possibly.
HEXUS.links
HEXUS.pr :: Aplus press release.