Cooler Master has taken the wraps off of its flagship high-air-flow chassis, the HAF X.
Arriving as a bigger brother to the existing HAF 932 and HAF 922, the new addition to the family boasts higher performance and enough room to house most of today's high-end components.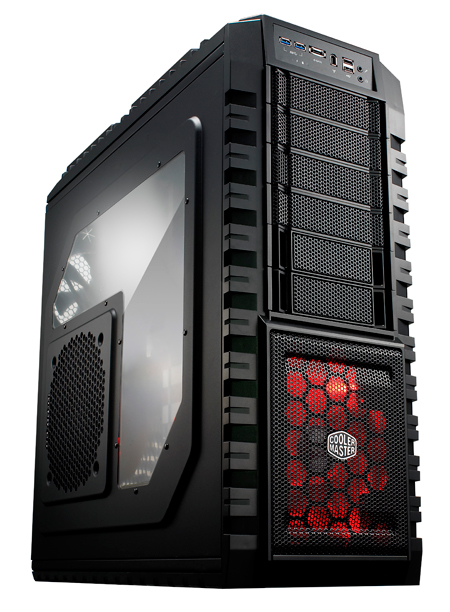 Measuring 230mm x 550mm x 599mm and weighing 14.35kg, the HAF X is comfortably bigger than its predecessors and supports a choice of M-ATX, ATX or E-ATX motherboards - though, there's sadly no official support for XL-ATX boards such as GIGABYTE's UD9.
There's plenty of room for cooling and graphics, however. HAF X features a 230mm red LED front intake, dual 200mm top exhausts and a rear 140mm fan, too. There's room for another 200mm fan to be added to the side panel, and the water cooling crowd will find space for a radiator to be mounted up top.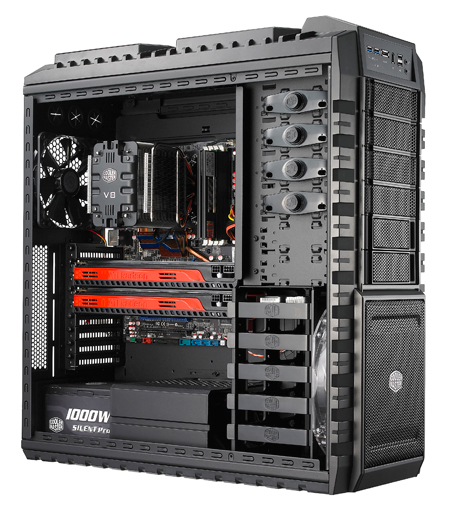 Extra-long graphics cards aren't a problem - there's room for AMD's ATI Radeon HD 5970 - and nine expansion slots leave plenty of room for multi-GPU configurations.
Five 3.5in drive bays and six 5.25in drive bays (two of which convert to 2.5in for your SSDs) make up the storage arrangement, and HAF X provides external easy-swap access to all installed 3.5in hard disks.
Rounding off the upgrades is a "refined cable management system", an improved tool-free design and the addition of two USB 3.0 ports to the top I/O panel.
Sounds rather nice, and Cooler Master tells us the HAF X will be available soon priced at an MSRP of £150. That's roughly £40 more than the HAF 932.