High-end chassis at a mainstream price are becoming increasingly popular, and it looks as though Cooler Master is getting in on the act.
Take a look at the Taiwanese company's latest offering, the USP 100 - a mid-tower chassis with high-end features, a bundled 550W power supply and a tantalising price tag of $99 (roughly £65).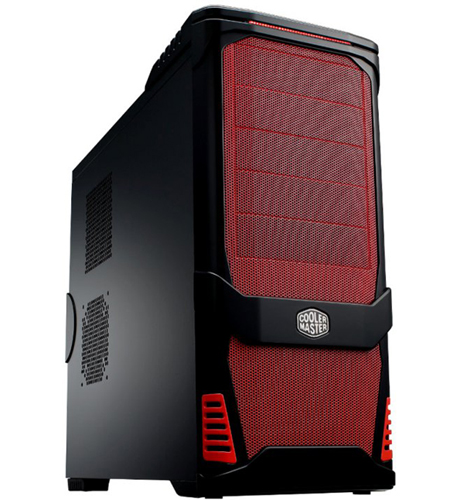 Featuring a black steel body and a red plastic/mesh front face, the 214mm x 483mm x 508mm mid-tower chassis weighs 7.2kg and hopes to provide enough room for all your high-end components.
Offering support for mATX or ATX motherboards, the chassis makes use of a "wide-body design" that facilitates graphics cards of up to 300mm in length, as well as CPU coolers up to 165mm tall. There's ample room behind the motherboard tray for cable management, too, and a cutout in the board tray to help with CPU cooler installation.
The tower's drive bays are all tool free, and plentiful in supply - with four exposed 5.25in bays, an exposed 3.5in bay and six further internal 3.5in bays. Seven expansion slots should also be ample for the average user.
Cooling comes in the form of a single 120mm Red LED front intake, but 80mm/90mm/120mm fans at the bottom, rear and side are all optional extras. We'd like to see at least two fans bundled as standard, but Cooler Master goes some way toward making amends with the inclusion of a Extreme Power Plus 550W power supply.
Considering that the power supply alone fetches around $65 at retail, $99 for the entire package seems a promising solution.
Other niceties include an all-mesh front panel, front air filters, a hidden power button and crimson LEDs that claim to add "a bold end edgy flair to any system". There's no all-black interior (or crimson for that matter), but without a side window, it's a moot point. The biggest negative, it seems, is that Cooler Master tells us the USP 100 will be available in Q1 2010 in only four regions - North America, Canada, Mexico and Latin America. There's no mention of UK availability at all.