HAF 932, the AMD way
Cooler Master has taken the wraps off its HAF 932 AMD Limited Edition, a re-branded version of its popular HAF 932 chassis.
The new-look tower, pictured below, has been designed in collaboration with AMD and sports a "racing red" front face and AMD's Fusion dragon on an acrylic side panel.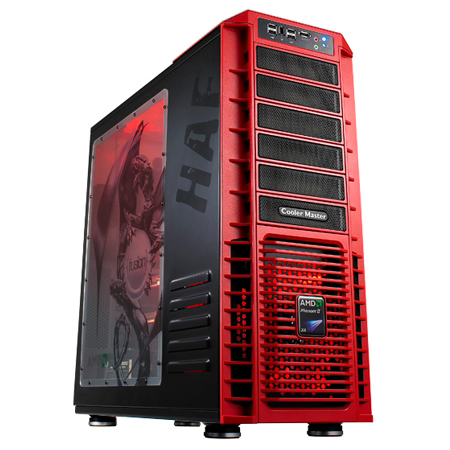 Aside from the aesthetic changes, Cooler Master's chassis is the same HAF 932 underneath. Not that that's a negative mind you, as the 243mm x 560mm x 564mm giant still touts six 5.25in drive bays, five 3.5in drive bays, a cooling system capable of facilitating six fans, support for a Micro-ATX, ATX or E-ATX motherboard, and seven expansion slots.
There's no mention of pricing yet, but as a limited edition it's likely to fetch a premium over the standard £125 HAF 932. Interested? You'll find another promo shot and Cooler Master's complete specification over on page two.