Back in 2008, SilverStone's high-end Raven RV01 chassis turned heads - and motherboards - by featuring a revolutionary design that holds a mainboard at a 90° angle.
The theory, put simply, is that bottom-mounted fans will ensure all the hot air inside the chassis does what it does best - rise up, and out. Now, as you might remember, we scored a look at the second Raven chassis - the Raven RV02 - at last month's COMPUTEX, and SilverStone is today making it official by pencilling in a "middle of August" launch window.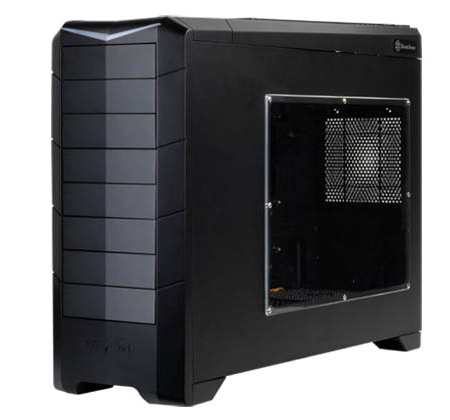 It might not look it, but the steel Raven RV02 is actually smaller than the original RV01. It now measures just 643mm x 503mm x 212mm, but it promises to retain most of the high-end functionality.
The shrink in size does result in a loss of support for Extended-ATX boards, but ATX and mATX users are still invited, and your boards will be held at a 90° angle - with the motherboard backplate accessible from the top of the tower. Sounds unsightly, but don't worry, it's covered by a plastic shell that should route all your cables toward the rear.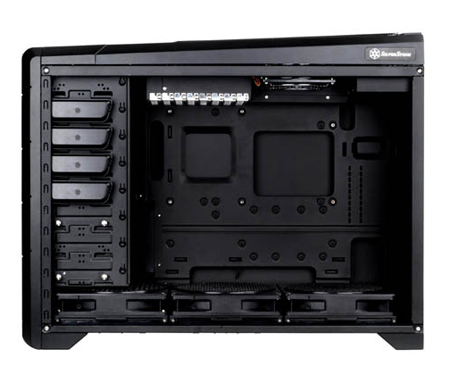 New to the RV02 is an all-black interior, an eighth expansion slot - allowing for four dual-slot GPUs to be installed - and three 180mm bottom-mounted fans, that's one more than the original RV01. Couple those three intakes with a 120mm top-mounted exhaust and an upward-pointing power supply, and you should have a stack-effect cooling solution with little-to-no dead zones.
SilverStone hasn't yet confirmed final figures for pricing, but last we heard the Raven RV02 will arrive at between £100 and £120.