Cooler Master has officially taken the wraps off its second HAF-series chassis, the mid-tower HAF 922.
The rugged-looking unit, pictured below and often referred to as the HAF Mini, was first seen by HEXUS at last month's CeBIT and promises to offer the high-end functionality of the larger HAF 932 in a smaller shell.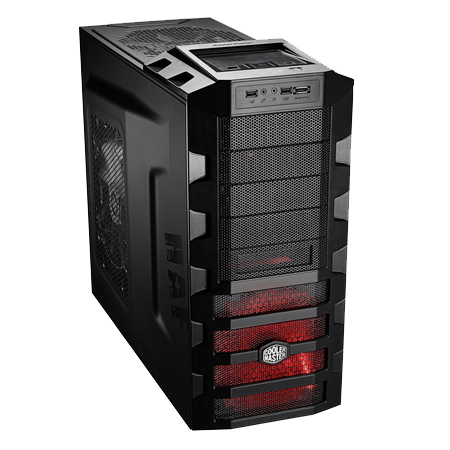 Measuring 255mm x 502mm x 558mm and weighing 8.7kg, the menacing-looking chassis can appear to be gaudy at first glance but is - in our estimation - one of the best-presented beasts on the market. It's an acquired taste, but we like it.
Inside the steel shell, you'll find three bundled fans - a front 200mm red-LED intake that can be turned on/off at the touch of a button, a 200mm top exhaust that can be swapped for two 120mm alternatives, and a rear 120mm exhaust, too. The idea, of course, is to provide the "massive air flow cooling" synonymous with the HAF range.
Should that trio not live up to the chassis' billing, there's additional room for a 120/140mm bottom-mounted fan and the windowed left side supports an optional 200mm fan, too.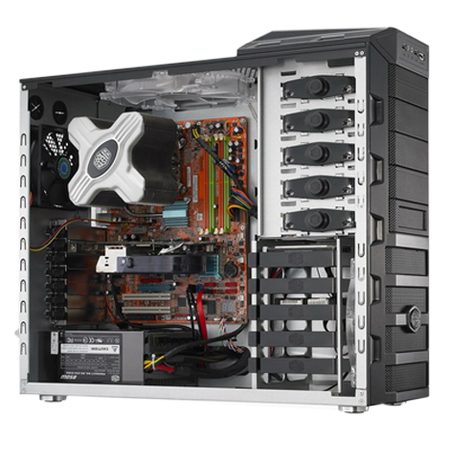 Elsewhere, there's support for a bottom-mounted PSU, and room for ATX and M-ATX motherboards, but, unlike the larger HAF 932, E-ATX boards are a no go. Users will find five 5.25in drive bays adorning the HAF 922's front - one of which can be used as a 3.5in bay - and another five 3.5in bays inside.
As you'd expect, there's room for full-length graphics cards, support for liquid cooling, built-in cable management, tool-free installation and 7+1 PCI slots.
How much can you expect to pay? Well, Cooler Master's yet to officially detail UK pricing and availability, but we've been told to expect a price tag somewhere around £85.